The Latest: Warriors continue hot shooting in Game 2
---
---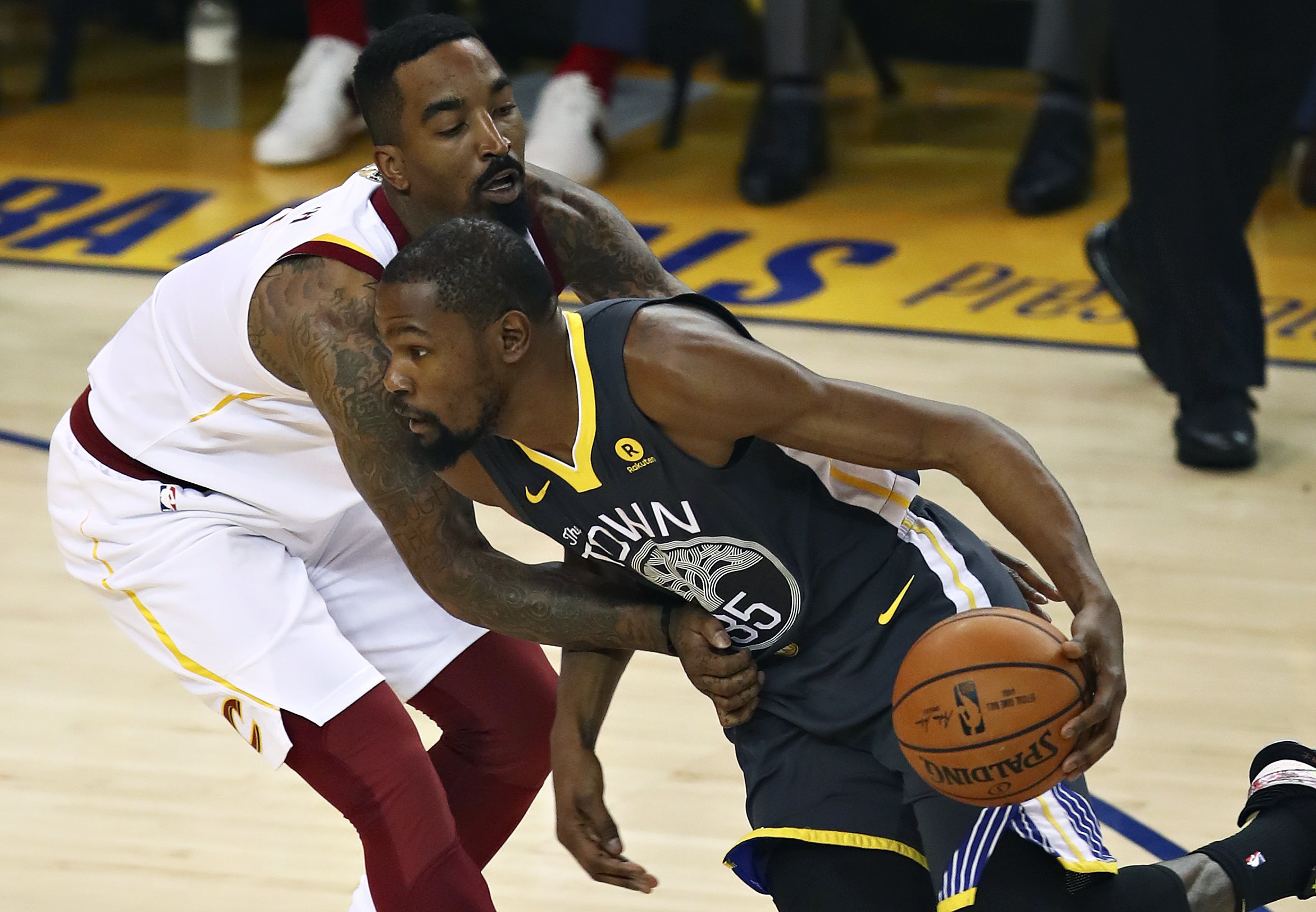 OAKLAND, Calif. — The Latest on the NBA Finals from Sunday's Game 2 (all times local):
6:20 p.m.
The Warriors rolled into the locker room with a 59-46 lead at halftime of Game 2.
Stephen Curry has 16 points, hitting two 3-pointers to give the Warriors some breathing room after Cleveland had closed within seven points late in the second quarter. Kevin Durant has 13 points and Klay Thompson 10.
LeBron James, with his eye still red after getting poked by Draymond Green in Game 1, has 15 points, eight assists and seven rebounds. George Hill has pitched in with 12 points, but Kevin Love is 2 for 10.
The Warriors shot 59.5 percent.
___
6 p.m.
The Warriors have opened an 11-point lead in the second quarter of Game 2 after trailing by the same margin in the first half of the opener.
Golden State is still shooting better than 65 percent and extended its lead to 47-36 about midway through the period. Kevin Durant, Stephen Curry and Klay Thompson are already in double figures.
Durant is off to a 5-for-6 start, while Shaun Livingston has provided a spark off the bench with eight points, making his first four shots.
___
5:45 p.m.
The Warriors are playing from ahead for a change.
Golden State ended its run of slow starts by taking a 32-28 lead after the first quarter of Game 2 in the NBA Finals Sunday night. The Warriors shot 65 percent from the field.
They had trailed after the first quarter of three straight games, starting with Game 6 of the Western Conference finals, and fell behind by double digits in the first half of all three of them.
The bad news for the Warriors is Kevin Durant had to go to the bench with two fouls after making his first three shots.
LeBron James kept Cleveland close despite Golden State's torrid shooting with 10 points, five assists and four rebounds.
___
5:30 p.m.
What a start for JaVale McGee and the Warriors in Game 2 of the NBA Finals.
Golden State's new-look lineup has made 10 of its first 11 shots and have a 21-17 lead. The first two baskets came from McGee, who was inserted into the starting lineup as Golden State's center.
Klay Thompson also started 2 for 2, showing no signs of trouble with his ankle that was sore after a Game 1 collision.
___
5:10 p.m.
The Warriors and Cavaliers are underway in Game 2 of the NBA Finals, a game that's gone Golden State's way in a huge manner the last two years.
Golden State romped to a 110-77 victory in 2016 and won 132-113 last year. Cleveland did take Game 2 in the first NBA Finals meeting between the teams, winning 95-93 in overtime in 2015.
LeBron James is appearing in his 237th postseason game, tying Kareem Abdul-Jabbar for fourth place on the career list.
___
4:50 p.m.
It's the fourth straight NBA Finals for the Cleveland Cavaliers. It's the fourth straight NBA Finals for the Golden State Warriors.
And now, it's the fourth straight NBA Finals for Carlos Santana.
Santana and his wife Cindy will perform "The Star-Spangled Banner" before Game 2 of the Cleveland-Golden State series at Oracle Arena. It will be the fourth straight finals that Santana, a 10-time Grammy winner and three-time Latin Grammy winner, has played the anthem before the second game on the Warriors' home floor.
Santana told The Associated Press, "we take whatever is offered to us and we're very grateful, Cindy and I, that they invited us to be part of this. I call it 'unprecedented brilliance.'"
Santana was born in Mexico and settled in the San Francisco area when he came to the United States. He says he appreciates greatness in all forms — the Warriors, LeBron James, as well as the careers of Tiger Woods and Serena Williams.
___
4:30 p.m.
Golden State coach Steve Kerr has made a lineup change for the Warriors in Game 2 of the NBA Finals, going with 7-foot big man JaVale McGee in the starting lineup in place of Kevon Looney.
McGee started the second half of Game 1 and had two baskets in a spirited six-minute stint. He had played only three minutes in the conference finals against Houston, when Golden State went with smaller lineups to match the Rockets' perimeter shooters.
But McGee's size could help now against the Cavaliers' big lineup that includes LeBron James, Kevin Love and Tristan Thompson. Kerr said the Warriors can't just sit back and let James attack, and the Warriors need a better effort on the backboards after getting outrebounded 53-38 in Game 1.
___
4:15 p.m.
Klay Thompson is available to play in Game 2 of the NBA Finals.
The Warriors made the announcement less than an hour before Sunday's game. Coach Steve Kerr had said Thompson, who suffered a sprained left ankle in Game 1 on Thursday, would be evaluated after warmups.
Kerr had also said Thompson was doing better Sunday morning when he checked in with the training staff.
___
3:40 p.m.
Golden State's Andre Iguodala will not play in Sunday's Game 2 of the NBA Finals, missing his sixth straight postseason contest with a bone bruise in his left knee.
Coach Steve Kerr remains optimistic the 2015 Finals MVP will play at some point in the series.
LeBron James says the Warriors are pretty with Iguodala, and pretty good without him.
The Cavaliers All-Star says the Warriors have "had a two-time MVP sit out playoff games and they've won. … They're good. They're great, actually. So let's not get too far on that."
The Warriors will evaluate Klay Thompson after pregame warmups to see how he does on his sprained left ankle suffered in the first quarter of Game 1 when J.R. Smith slid into him.
Kerr says Thompson "was doing better this morning when he checked in with the training staff, so I'm hopeful he will play."
___
3:25 p.m.
LeBron James could move up on a couple of NBA Finals individual lists in Game 2 — but also fall backward in another.
James has 1,298 points in the finals and needs 20 to move ahead of Kareem Abdul-Jabbar (1,317) into second place behind Jerry West.
Cleveland's superstar could also reach the top five in NBA Finals rebounds, as he enters nine behind Tom Heinsohn (473) for the No. 5 spot.
James is already the career leader in finals 3-pointers with 83, but Stephen Curry is closing fast and only two behind him.
The Splash Brothers could occupy two of the top three spots in that category by the end of the game. Klay Thompson (55) needs two 3-pointers to pass Robert Horry into third place.
___
2:30 p.m.
Las Vegas is thinking Golden State in Game 2 of the NBA Finals — and big.
The Warriors have held steady as a double-digit favorite for Sunday night's game against Cleveland. Most books opened with the Warriors around a 12-point favorite, and the line hasn't changed much since Golden State's overtime victory Thursday night.
There's even a couple of places showing odds for Wednesday's Game 3 in Cleveland already. For that one, and this number will likely change based on Game 2, the Warriors are showing up as 4 1/2-point favorites.
___
2:05 p.m.
David Guthrie, welcome to the NBA Finals.
Guthrie is making his finals debut as a referee Sunday night for Game 2 of the Cleveland-Golden State series. He's working alongside Mike Callahan — who is the most experienced referee assigned to this series.
Callahan is working his 20th finals game.
Also part of the crew will be Derrick Stafford, who was picked as a finals ref for the eighth time.
Officiating will likely be even more closely scrutinized than usual in Game 2. The crew of Ken Mauer, Ed Malloy and Tony Brothers was criticized for late-game decisions in Game 1, such as the overturning of a block-charge call involving LeBron James and Kevin Durant and the ejection of Cleveland's Tristan Thompson in the final seconds
___
More AP NBA: https://apnews.com/tag/NBAbasketball