The Latest: Garfield wins best leading play actor Tony Award
---
---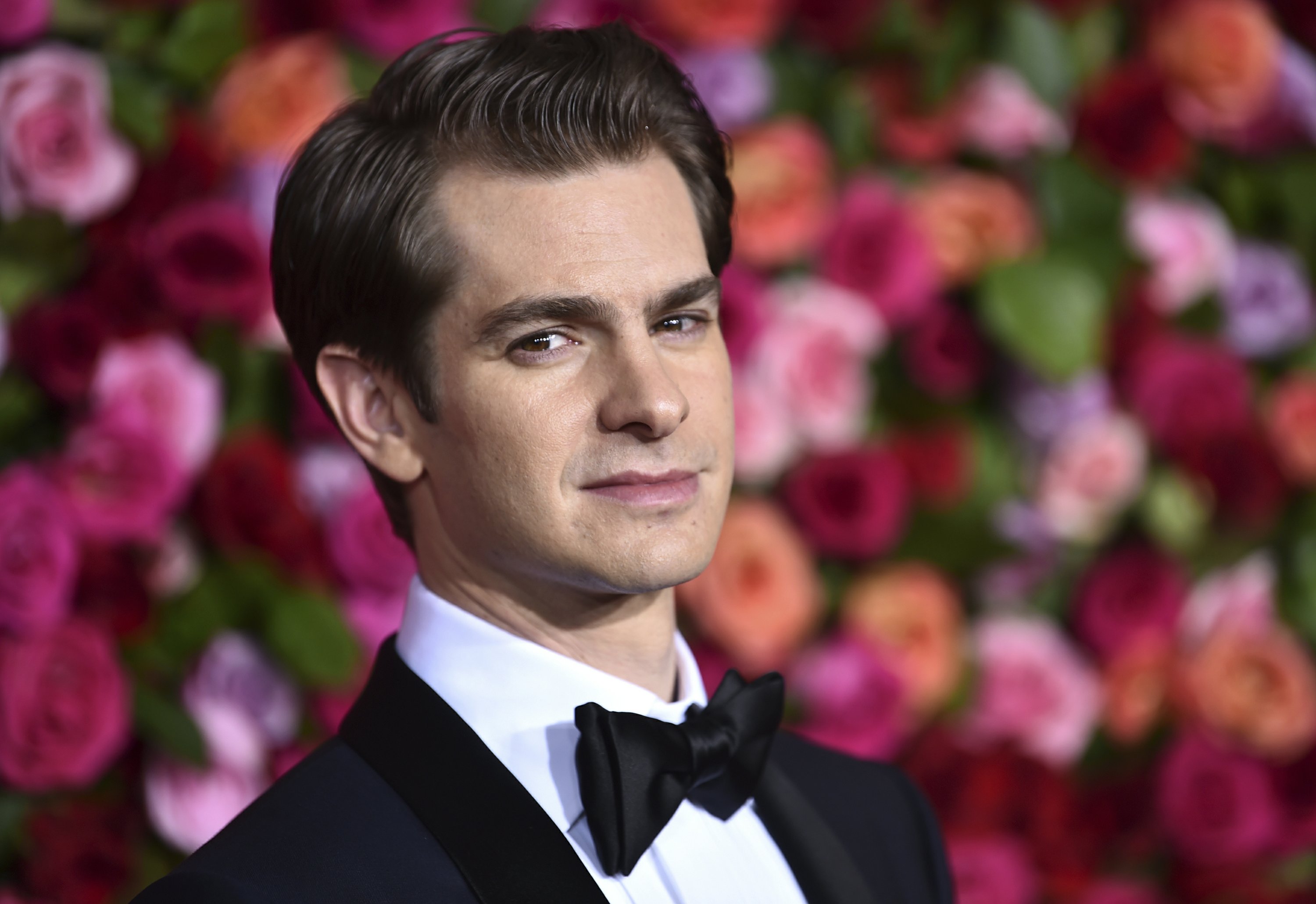 NEW YORK — The Latest on the Tony Awards (all times local):
8:10 p.m.
Andrew Garfield has won the Tony Award for best leading actor in a play for his work in "Angels in America," Tony Kushner's monumental drama about life and love during the 1980s.
Garfield plays a young gay man living with AIDS in the sprawling, seven-hour revival opposite Nathan Lane.
He previously was nominated for a featured role in "Death of a Salesman" opposite Philip Seymour Hoffman.
Garfield has been nominated for an Oscar for his work in "Hacksaw Ridge." His other film work includes "The Social Network" in 2010 and the 2012 superhero film "The Amazing Spider-Man" and its 2014 sequel.
He beat out Tom Hollander, Jamie Parker, Mark Rylance and Denzel Washington.
___
8:05 p.m.
Tony Award co-hosts Josh Groban and Sara Bareilles have gotten the show started with a self-parodying duet on piano for all the losers out there — including them.
Neither Bareilles nor Groban have won a Grammy or a Tony despite selling millions of albums and appearing on Broadway in hit shows. They turned that into a playful song.
"Let's not forget that 90 percent of us leave empty-handed tonight. So this is for the people who lose/Most of us have been in your shoes," they sang in the upbeat opening number. "This one's for the loser inside of you."
The co-hosts then noted that such noted shows like "Hair" and "Into the Woods" didn't win the best musical prize. Nor did "Waitress," the show Bareilles wrote music for.
At the end of the song, the pair were joined by over a dozen members of the ensemble from each this year's nominated musicals.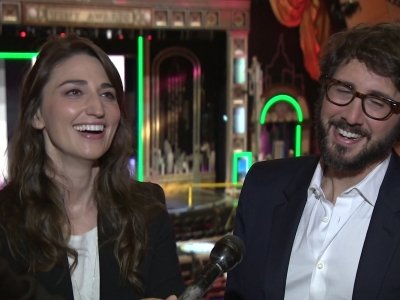 ___
7:55 p.m.
Condola Rashad has a special reason to celebrate on the Tony Award red carpet Sunday. She also just closed her show, "Saint Joan."
The actress says she has "a lot of emotions today." She likened it to the last day of school mixed with prom and graduation at the same time. She says: "It's a celebration."
The daughter of Phylicia Rashad and sportscaster Ahmad Rashad earned a best actress in a play nomination for playing Joan of Arc in the play by George Bernard Shaw, which ended its run with Sunday's matinee. Her dad and sisters were her dates to the Tonys.
She says "it's been a really great opportunity for us to come together."
Rashad also earned a 2012 Tony nomination for "Stick Fly" and plays a district attorney on the Showtime series "Billions."
___
7:45 p.m.
Broadway's SpongeBob, Ethan Slater, has walked the red carpet with a ribbon supporting the American Civil Liberties Union pinned to one lapel.
He says the organization is "incredibly important to our country" when it comes to guarding civil liberties. He called his show "aligned with the values of the ACLU."
How exactly? Well, in terms of diversity, for one.
The "SpongeBob SquarePants" musical includes Sandy the squirrel, a scapegoat for Bikini Bottom's problems who is targeted for banishment.
Slater calls the story line "really relevant to the Muslim ban" in the United States and the way he says that "Muslim-Americans have been treated."
___
7:25 p.m.
Composer Andrew Lloyd Webber has no problem with nerves as he heads into the Tony Awards. His accolade to come once inside is all sewn up as an honorary tribute.
The musical theater legend says the feeling is wonderful: "I don't have to worry about it." He says all he has to do is "just go and get it."
Webber says this season on Broadway is exciting, in particular amid musicals with many fine new writers. He also praised the night's co-host, Sara Bareilles, for her work in the recently televised rock opera he co-created back in 1970, "Jesus Christ Superstar."
Webber describes Bareilles as an "extraordinary actress," especially through music.
___
6:50 p.m.
Andrew Garfield says the social message of "Angels in America" is a huge part of why he agreed to star as Pryor Walter.
The nominee says on the Tony red carpet that he doesn't want to "tell a story unless it has the potential to change people."
The British actor says the eight-hour play is as relevant today as it was 25 years ago, when Tony Kushner first staged it and won a Pulitzer Prize for his trouble.
Garfield says theater must be political and mirror the times we're in. Otherwise, he says, "we're wasting everyone's time."
___
6:20 p.m.
Josh Groban is promising "a really fun" Tony Awards.
Says the first-time co-host: "I feel really excited about the show we have ready for everybody tonight." He says it's been a fun season and he called co-host Sara Bareilles "brilliant."
He says the chance to collaborate and bounce ideas off her has been "nothing less than a dream come true."
He adds "We're just going to go out and be ourselves." Groban promises the show will be a combination of slick and two musical theater geeks being "total weirdos."
For her part, Bareilles says she "just wants to stay present." She added that her job is to make sure everyone else is having a good time, saying "that's the goal — people pleasing."
___
6:10 p.m.
Cynthia Erivo and Brian Tyree Henry say the theater is a perfect place to deal with social issues.
Says Henry, who is nominated for his work in "Lobby Hero": "It's happening right in front of your face." He adds that something about the stage encourages tough issues to be worked on by strangers.
He says the cast and audience of a show go on a ride together and hopefully it creates a platform for discussion.
Erivo, winner of the best actress in a musical award for her work in "The Color Purple" in 2016, agreed: "People can see themselves live." She says theater gives people a chance to express themselves freely.
John Leguizamo adds there are no "gatekeepers" in theater, which allows many points of view to emerge.
___
5:45 p.m.
"Frozen" songwriters Robert Lopez and his wife, Kristen Anderson-Lopez, walked the red carpet at the Tony Awards on Sunday for the first time as equal nominees.
Robert Lopez co-conceived and co-wrote the smash-hit musicals "Avenue Q" and "The Book of Mormon," both earning him Tony Awards. "Frozen" marks Kristen Anderson-Lopez's first nomination.
"I'm so proud of her," her husband said. "She's been here before as my plus-one." His advice to her was "enjoy this thing." It might be scary, but he calls it like a "prom."
Anderson-Lopez acknowledged she was going to be nervous for the cast of "Frozen" and suspected that she would share their butterflies. Joked her husband: "She'll be mouthing every word along with them."
___
2:45 p.m.
The Tony Awards dress rehearsal — normally with few actual stars in attendance — got a shock of A-listers this year, including Tina Fey, Kelli O'Hara, Andrew Lloyd Webber, John Leguizamo, Tituss Burgess — and Bruce Springsteen.
The four-hour rehearsal at Radio City Music Hall allows producers to go through the show from start to finish before the Sunday telecast. Usually, stand-ins are used for Hollywood presenters, who prefer to hit the snooze button.
But the audience this time cheered loudly when Patti Lupone, Uzo Aduba, Ming-Na Wen, Melissa Benoist, Tatiana Maslany, Christopher Jackson, James Monroe Iglehart and Rachel Brosnahan showed up in the flesh.
The highlight was Springsteen, who walked onstage in a T-shirt and jeans, performed one song on the piano from his sold-out one-man show and departed to a standing ovation.
___
12:15 a.m.
The Tony Awards kick off on Sunday night with a pair of first-time hosts, no clear juggernaut like "Hamilton" to cheer for, but a likely assist by Bruce Springsteen.
Josh Groban and Sara Bareilles face their biggest audience yet and a careful political balancing act when they co-host the CBS telecast from the massive 6,000-seat Radio City Music Hall.
Getting buzz from appearing on the telecast can dictate a show's future, both on Broadway and on tour. Broadway producers will be thankful this year that the telecast won't compete with any NBA Finals or Stanley Cup playoff games.