For world, Trump-Kim summit raises cautious hope for peace
---
---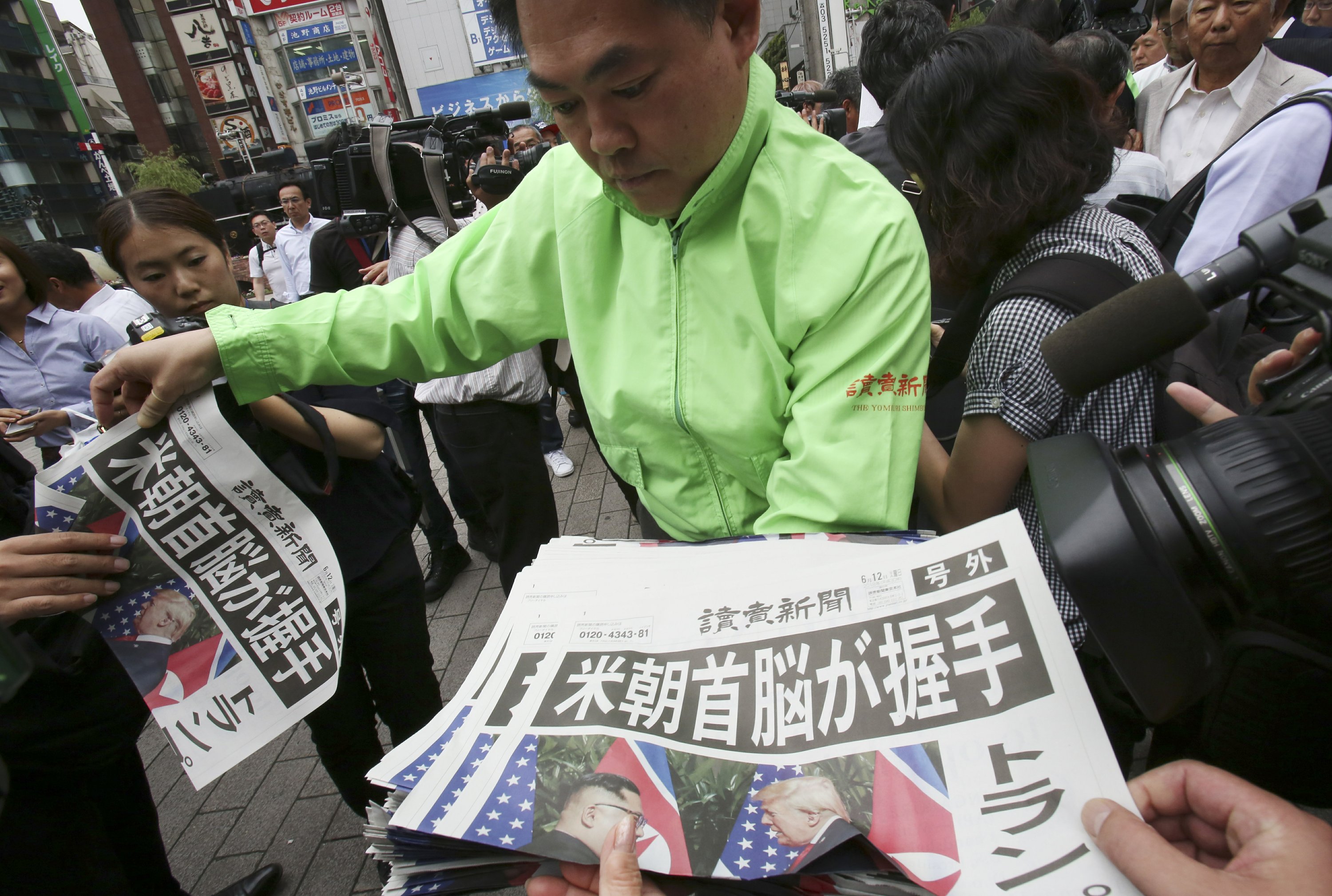 TOKYO — Cheers in South Korea and a one-page "extra" edition of a Japanese newspaper greeted Tuesday's unprecedented summit between Donald Trump and Kim Jong Un.
Trump became the first sitting American president to meet a North Korean leader Tuesday when the two shook hands firmly before sitting down to talk at a resort hotel in Singapore.
Many across Asia and around the world have welcomed a flurry of diplomacy in recent months between the two adversaries, following a year of mounting tension and threats. Hopes for peace on the long-divided Korean Peninsula, however, remain tempered by the many failed attempts in the past.
The leaders of South Korea, Japan and Malaysia were among those wishing for a successful summit.
South Korean President Moon Jae-in said he "could hardly sleep last night" in anticipation of the meeting and expressed hope for "complete denuclearization and peace".
New Malaysian Prime Minister Mahathir Mohamad, on a visit to Tokyo, said "I hope that both parties will accept the fact that, in negotiation, both sides must be prepared to give in certain issues if they expect to reach a good conclusion."
At a train station in Seoul, the South Korean capital, people cheered and applauded as televisions screens broadcast the Trump-Kim handshake live.
"I really, really hope for a good outcome," said Yoon Ji, a professor at Seoul's Sungshin University. "I am hoping for denuclearization and a peace agreement, and also for North Korea's economy to open up."
Some question whether Kim would fully relinquish the nuclear weapons he may see as his only guarantee of survival.
"I am still not sure whether the North is willing to denuclearize or not," said Jo Han-won. "We never knew much about the North Korean regime and it's hard to distinguish what's true and what's false."
Japan's largest newspaper, the Yomiuri, printed a special edition in both Japanese and English that was distributed for free in Tokyo one hour after the meeting began.