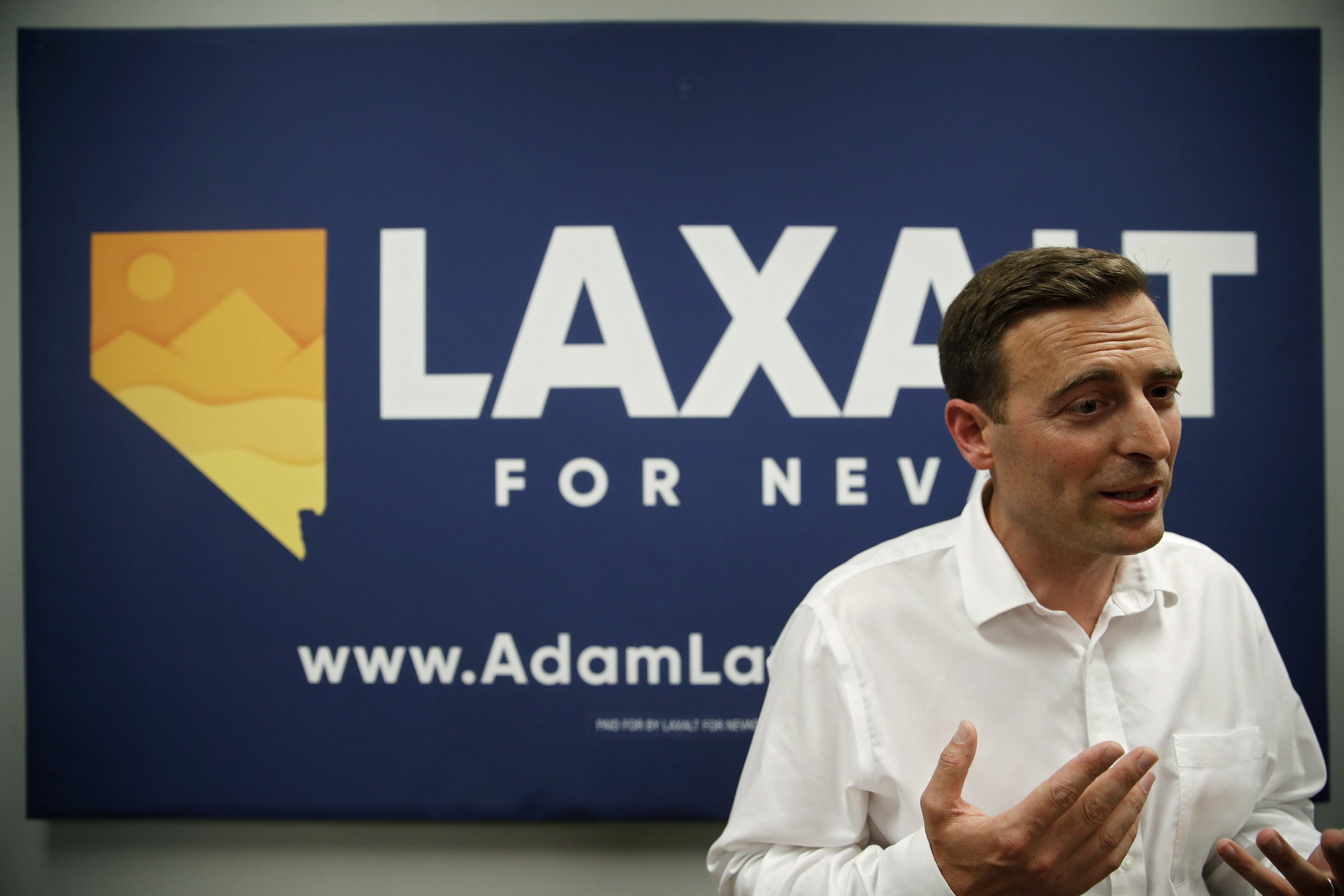 Though on the other side of the globe, President Donald Trump figures to be a factor in Republican elections in South Carolina, one of five states holding primaries.
Republican Gov. Henry McMaster, an early Trump supporter in 2016 when he was lieutenant governor, has the president's backing but faces challenges from four other candidates. McMaster endorsed the New York businessman in the state's early presidential primary, which gave Trump a much-needed victory in the race for the nomination.
Elections are also scheduled Tuesday in Maine, Nevada, North Dakota and Virginia. They raise to 21 the number of states having held their 2018 primary elections so far.
SOUTH CAROLINA, THE GOP TRUMP SPECTRUM
Trump reiterated his support for McMaster on Twitter over the weekend, saying he "is doing a fantastic job as your Governor, and has my full endorsement, a special guy. Vote on Tuesday!"
Although Trump remains very popular in South Carolina, McMaster has been shadowed by a corruption probe involving a longtime political consultant. McMaster assumed the governorship last year after Nikki Haley resigned to become U.S. ambassador to the United Nations.
McMaster has led the GOP field but in recent surveys has struggled to receive support from the 50 percent of voters he'd need to avoid a runoff.
Meanwhile, Republican Rep. Mark Sanford, a frequent Trump critic, faces a challenge from GOP state Rep. Katie Arrington in the state's southeastern coastal 1st District around Charleston.
Sanford has described Trump as untrustworthy and culturally intolerant. He repeatedly has called for the president to release his tax returns.
Sanford, who resigned as governor in 2011 after admitting to an extramarital affair, staged a political comeback in 2013, winning the House seat he had earlier represented for six years.
Arrington is accusing Sanford of seeking the spotlight and impeding Trump's agenda. Her campaign is airing a television advertisement which refers to Sanford as a "Never Trumper" and features video clips of Sanford's Trump criticisms.
A HOUSE BELLWETHER IN VIRGINIA
The northern Virginia suburbs offer a potential bellwether for both parties Tuesday in a GOP-leaning House district that opted for Democrat Hillary Clinton over Trump in 2016.
Freshman Republican Rep. Barbara Comstock is one of Democrats' top targets in November. But she first must clear a primary challenge from retired Air Force veteran Shak Hill, who has criticized her for voting last year against a measure to repeal the 2010 Affordable Care Act.
Comstock is favored in the contest, but the challenge by Hill could push the more moderate Comstock to the right in this politically mixed district.
The six-person Democratic field is creating a free-for-all, given Virginia's system that rewards the highest vote-getter without a runoff.
It will be another test of whether Democratic primary voters in swing districts prefer liberal candidates, as they've shown in several races so far this year. The party needs to gain 23 seats to win the majority in the House.
State Sen. Jennifer Wexton began the 2018 cycle as the establishment favorite in the race. But three other competitors have roughly kept pace or even exceeded her fundraising and spending, while two others have mounted credible campaigns.
TURNING THE LePAGE
Maine voters will decide how they'd prefer to veer in their search for the successor to term-limited conservative Republican Gov. Paul LePage.
In a state represented by moderate Republican Sen. Susan Collins and independent Sen. Angus King, voters will choose from GOP candidates who echo King's conservative policies but shy away from his controversial tone.
The field includes top Republicans in the legislature, Senate Majority Leader Garrett Mason and House Minority Leader Kenneth Fredette; LePage's former state health agency chief, Mary Mayhew; and businessman Shawn Moody, who's trying to claim the outsider mantle.
Democrats, with just 16 of the nation's governorships, view the seat as one of their top pick-up opportunities
First they must settle a seven-way primary field led by Attorney General Janet Mills and former state House Speaker Mark Eves.
NEVADA, NORTH DAKOTA: SEE YOU IN NOVEMBER
Nevada and North Dakota are home to two of the most pivotal Senate races this year. What they don't have is competitive Senate primaries.
Nevada Sen. Dean Heller, the only Republican seeking re-election in a state that Hillary Clinton carried in 2016, is expected to sail through his primary against lesser-known challengers. So is Democratic Rep. Jacky Rosen, who expects to face Heller in November.
One of the most interesting GOP primaries in Nevada involves legal brothel owner Dennis Hof challenging GOP state Rep. James Oscarson for his seat in the statehouse.
There's also the return of Sharron Angle, the conservative who once ominously threatened to "take out" then-Sen. Harry Reid. Angle, who lost to Reid in her 2010 bid for Senate, is challenging Rep. Mark Amodei, who is favored in his campaign for renomination in Nevada's 2nd District.
The most competitive choice for Democrats appears to be the battle between Clark County commissioners vying to be Nevada's first Democratic governor in two decades.
Steve Sisolak is running as a centrist and fellow board member Chris Giunchigliani is running as a progressive, knocking Sisolak for his positive rating from the National Rifle Association in light of the mass shooting in Las Vegas in October. Four lesser-known candidates are also running.
Republican Attorney Gen. Adam Laxalt is expected to easily clear the GOP field.
In North Dakota, GOP Rep. Kevin Cramer is a shoo-in to face moderate Democratic Sen. Heidi Heitkamp, who is seeking re-election in a state Trump carried by 36 percentage points in 2016.