GOP senator defends EPA chief, calls ethics allegations lies
---
---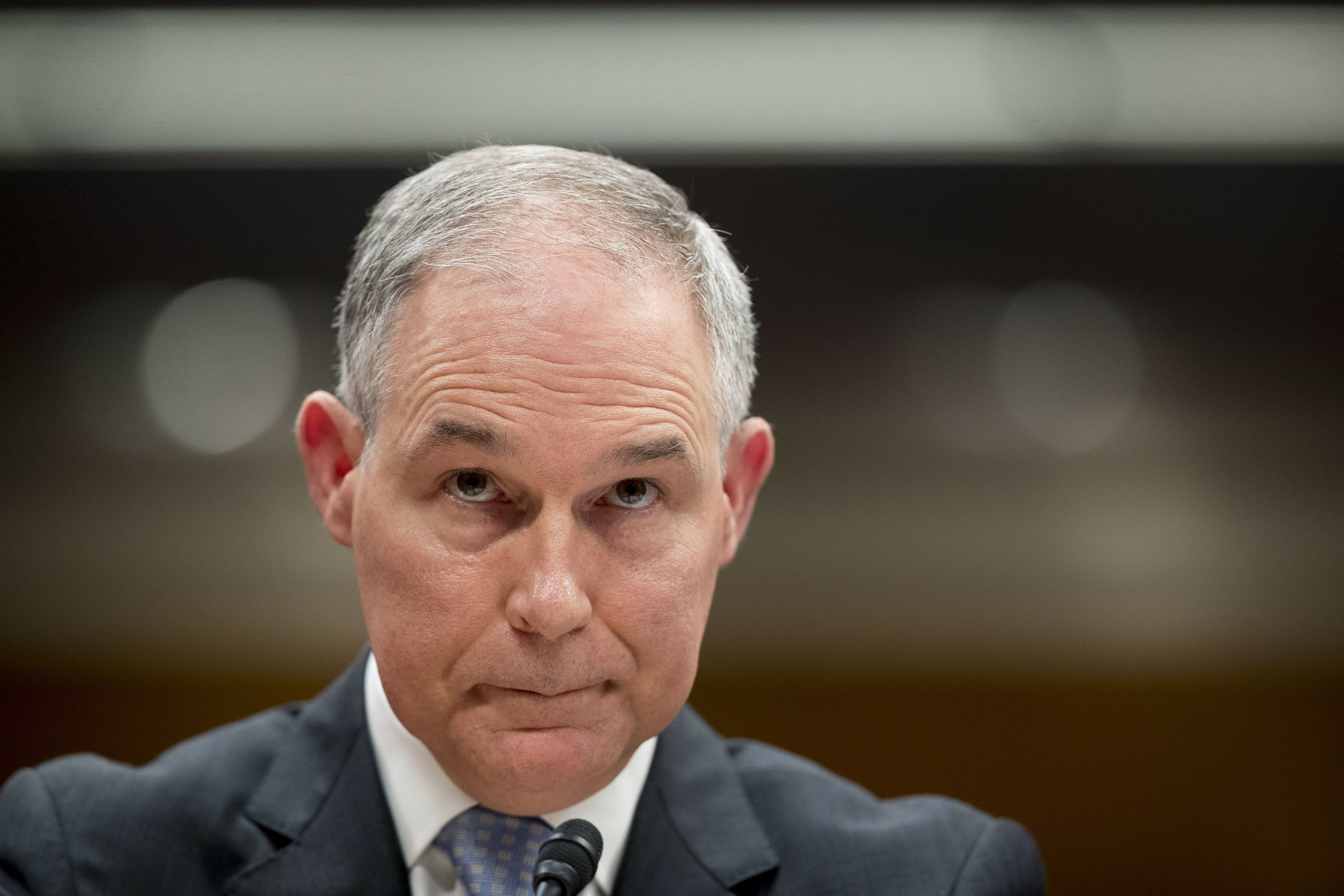 WASHINGTON — A Republican senator who had expressed concerns about Environmental Protection Agency chief Scott Pruitt mounted an outspoken defense of him Wednesday after a face-to-face meeting, calling ethics allegations against Pruitt "outrageous lies."
Sen. Jim Inhofe, from Pruitt's home state of Oklahoma, spoke after summoning Pruitt to a one-on-one meeting this week to discuss more than a dozen allegations that Pruitt has misused his office to obtain perks and material benefits for himself and his family, including costly, taxpayer-funded premium-class trips and round-the-clock security.
"This is the type of outrageous lies you hear in Washington that people don't have a chance to respond to," Inhofe said at a Senate Committee on Environment and Public Works confirmation hearing for two EPA nominees that quickly turned into a sparring session about Pruitt.
Democratic Sen. Tom Carper of Delaware listed some of the ethics allegations against Pruitt and said the Senate isn't doing enough to examine them and hold him accountable.
"We are abdicating a fundamental responsibility of this body if we continue to do so," he said.
Inhofe interrupted him to defend Pruitt.
"I know what you said is not correct," Inhofe said.
Inhofe, who expressed concern last week about Pruitt's ethics problems, told lawmakers he had spoken to Pruitt directly and now believes the news media is the source of much of Pruitt's trouble.
He rejected criticism of Pruitt's travel to Morocco and Italy, saying the trips were part of the EPA administrator's job. Pruitt flew premium class and was accompanied by a security contingent for the trips.
Inhofe did not speak to allegations that Pruitt used staffers and other office resources to try to line up work for his wife and to obtain hard-to-get tickets to the Rose Bowl and other sporting events.
But he did say Pruitt told him that he had had checked with EPA's ethics officials about the sports tickets.
Pruitt, a Republican and the former attorney general of Oklahoma, had an EPA aide reach out to University of Oklahoma regent Renzi Stone, a public-relations consultant with clients in the oil industry, to get the Rose Bowl tickets, according to Stone and to former Pruitt EPA aide Millan Hupp.
Federal ethics codes prohibit executives from using subordinates for personal errands or from using their office for personal financial gain.
President Donald Trump last week lauded Pruitt's work at the EPA but said he was not "happy about certain things" surrounding the EPA chief.
Many of the allegations concerning Pruitt emerged from testimony by former Pruitt aides to staffers of a House oversight committee investigating Pruitt and from EPA emails obtained through the federal Freedom of Information Act.
Republican Sen. Joni Ernst of Iowa, who has faulted Pruitt over the scandals and over an ethanol policy widely opposed by Midwest corn farmers, criticized Pruitt at Wednesday's hearing for "unacceptable uses of taxpayer dollars."
Carper repeatedly urged that Pruitt appear quickly before the panel to answer questions. The committee on Tuesday announced it had tentatively set a hearing with Pruitt for August.
If Pruitt's predecessors at the EPA had faced "even a fraction of what this administration is accused of," Carper said, "they would be sitting at this desk explaining week after week what's happening with the EPA." He pointed at the witness table.
Trump nominees appearing before the Senate committee included Peter Wright, a DowDuPont Inc. executive named to lead the EPA office overseeing the country's Superfund sites and other higher-risk industrial sites.
The Union of Concerned Scientists has challenged Wright's ability to impartially manage the sites, which the nonprofit group says include 50 facilities owned by DowDuPont or a subsidiary.
Carper said Wright has agreed to stay out of an EPA action on any site involving DowDuPont for at least two years.