Analysis: Trump sees vindication for immigration views
---
---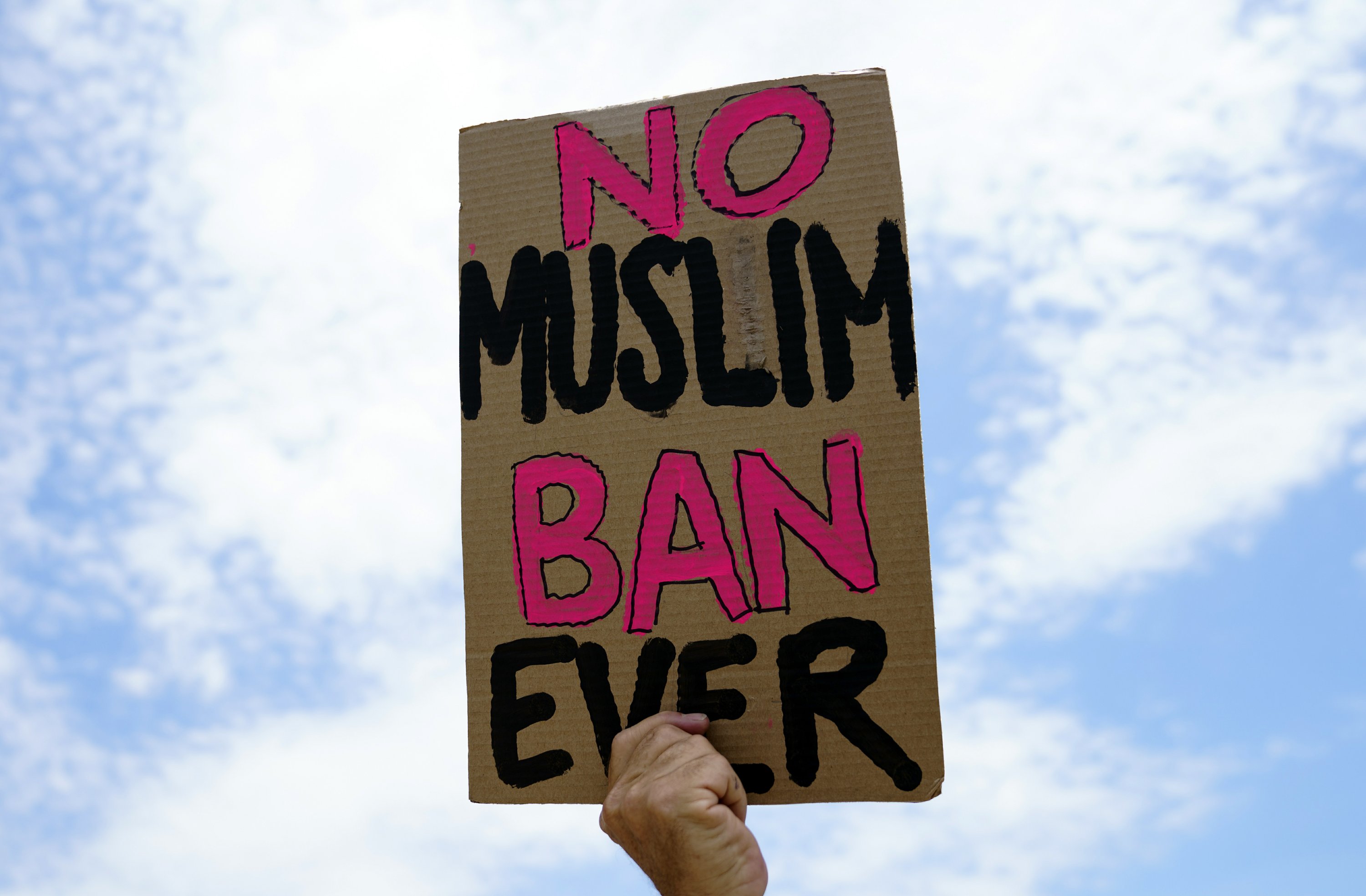 WASHINGTON — A long time coming, the Supreme Court's ruling Tuesday in favor of President Donald Trump's travel ban hands the president a much-needed victory sure to embolden him in pressing hard-line immigration policies heading into the midterm elections.
The decision arrived just as Trump was facing a political firestorm over the wrenching images of migrant children separated from their parents at the border. Bipartisan blowback to the family separations had caused the president to abruptly reverse course last week on the issue, and it raised questions about whether the hawkish immigration views that helped propel Trump into office could sustain Republicans this fall.
Trump took the court's ruling as vindication for his beliefs, first outlined moments after he descended the Trump Tower escalator to launch his presidential campaign three years ago.
"The ruling shows that all of the attacks from the media and the Democrat politicians are wrong, and they turned out to be very wrong, and what we're looking for as Republicans, I can tell you, is strong borders, no crime," a defiant Trump said from the White House. "What the Democrats are looking at is open borders, which will bring tremendous crime."
Trump glossed over the fact that the court's decision applied to the third version of his travel ban, not the original and far more sweeping version. Officials from across the government spent months crafting criteria to assess each country's security situation and willingness to share information with the U.S. to ensure the final version would hold up in court.
The president was in the White House residence when he found out about the 5-4 ruling. Among West Wing aides and outside Trump advisers, there was a feeling of satisfaction that after months of what they viewed as overreaction in the media and from liberals, the highest court in the land found their policy to be legally sound.
"Donald Trump ran on and won because of his commitment to keep America safe. Today's Supreme Court ruling on his travel ban is a vindication of the president, his administration and the will of the American people," said Steve Bannon, a key architect of the original travel ban that sparked chaos at airports and was panned by critics as a glorified "Muslim ban."
The victory was also seen as validation for Senate Majority Leader Mitch McConnell's decision to break with precedent and refuse to hold hearings to confirm President Barack Obama's Supreme Court choice in 2016. That left the seat open for Trump's pick, Neil Gorsuch, who provided the margin of victory on Tuesday.
The ruling comes days after Trump succumbed to tremendous political pressure and issued an executive order ending the practice of separating migrant children from their parents when families cross the border illegally. Overwhelmed by nonstop cable coverage of children pulled from their mothers, Trump reluctantly signed the order to end the separation of families detained at the border.
U.S. Customs and Border Protection officials announced this week that they are no longer referring such cases for prosecution, though the administration's Supreme Court victory added to questions about whether Trump agrees with that policy.
Trump, who had complained privately and publicly that the third iteration of his travel ban was not strong enough, showed no reluctance to take a victory lap on Tuesday and made clear that he expected Republicans to put immigration at the center of their strategy for midterm elections that could determine the fate of his presidency.
"We're going to run on border security," Trump said. The Democrats, he added, are "going to run on open borders and nobody wants open borders."
Trump's hawkish views on immigration were on display from the first moments of his campaign in June 2015, when he called for the construction of a border wall with Mexico and accused the country of sending migrants who were "bringing drugs. They're bringing crime. They're rapists. And some, I assume, are good people."
He stuck with that message night after night at his campaign rallies, using dark imagery to depict immigrants as dangerous invaders. Then, in the aftermath of a terrorist attack that December in San Bernardino, California, Trump called for the United States to bar all Muslims from entering the country until the nation's leaders could "figure out what is going on," an escalation of fear-inducing rhetoric that drew swift rebuke from both sides of the aisle.
Within a week of taking office, the first travel ban was abruptly announced and implemented with little care, sparking chaos at airports and protests across the nation. While the ban has changed shape since then, the president always believed that the restrictions, taken in tandem with a wall at the southern border, would make the United States safer while also providing a useful cudgel in the ongoing culture wars.
In recent days, Trump has used seemingly coded language — including "invaders" and "infests" — to describe the Latino migrants illegally crossing the border into the United States.
Trump has long reveled in cultural clashes, from the depiction of his supporters in the short-lived "Roseanne" revival to NFL players kneeling for the national anthem, believing that us-versus-them partisan issues fire up his base of supporters.
It's unclear if other Republicans will be successful in following his blueprint. But Josh Holmes, a Republican strategist and former chief of staff to McConnell, said immigration would be a key election issue regardless of the president's actions.
"We have an issue unfolding on the border that is both urgent and regrettable from every standpoint. Whether you want an election to be about something is inconsequential when you have a crisis, and we've got one," Holmes said, pointing to states like North Dakota, Missouri and Indiana, where he said voters "agree with the president wholeheartedly on this approach."
"Democrats are coming out, no matter what. I think the issue is whether or not Republicans are equally motivated," he said. "By and large, the president's message is helpful to Senate Republican campaign efforts in 2018."
___
EDITOR'S NOTE: Lemire has covered the White House and politics since 2013. Colvin has covered the White House and politics since 2014.
___
Follow Lemire on Twitter at http://twitter.com/@JonLemire and Colvin at http://twitter.com/@colvinj