The Latest: Trump meeting with Finnish president
---
---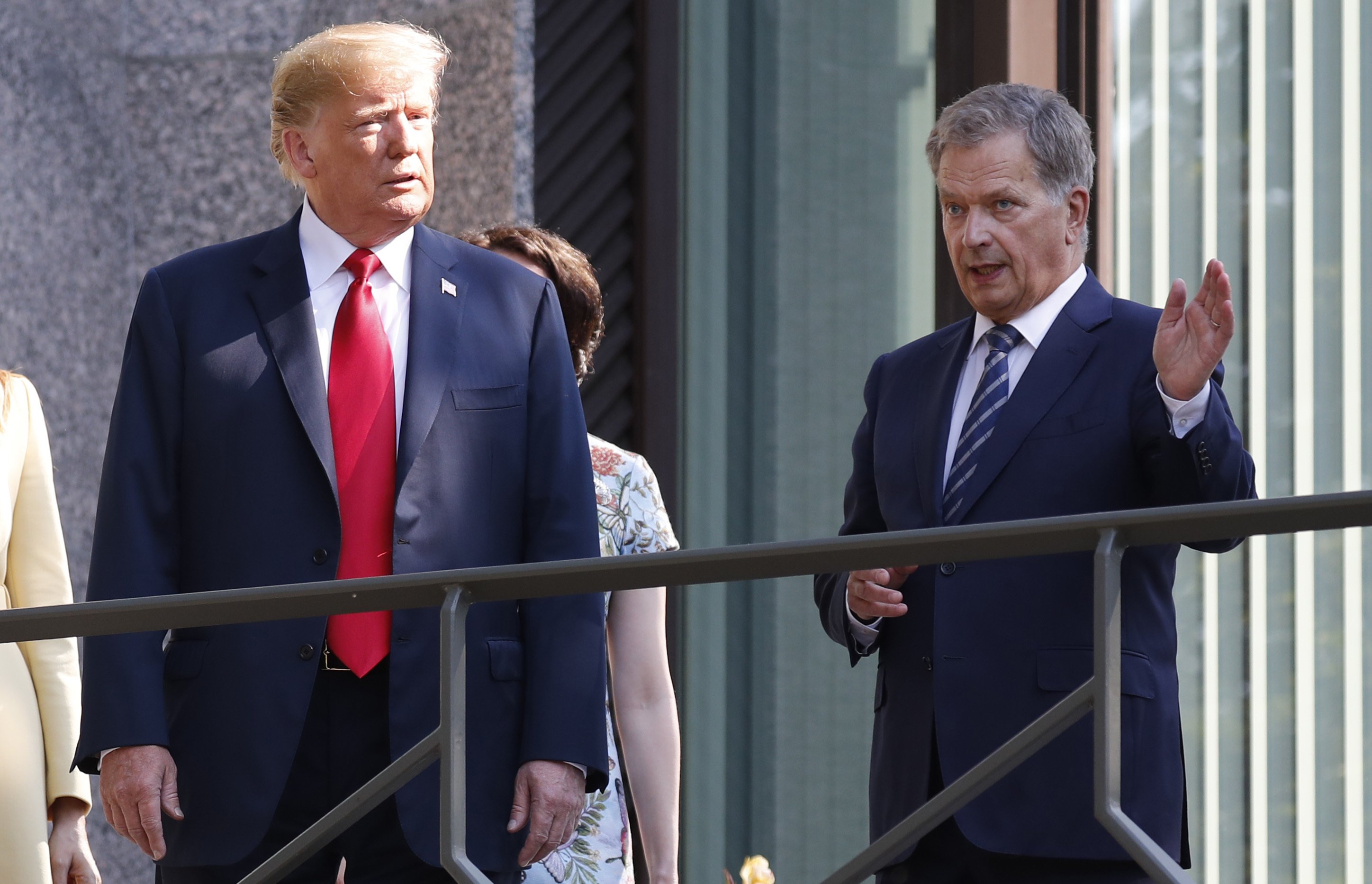 HELSINKI — The Latest on President Donald Trump's summit with Russian President Vladimir Putin (all times local):
10:15 a.m.
President Donald Trump says his upcoming meeting with Russia's Vladimir Putin will go "fine."
Trump made the brief prediction Monday at a breakfast at Finland's presidential residence in Helsinki.
He was meeting with Finland's President Sauli Niinistö (SAW-lee KNEE-nes-tuh) in the hours before his highly anticipated summit with Putin.
Trump thanked his Finnish counterpart for hosting the summit in Helsinki and spoke of his commitment to NATO.
Trump was a destabilizing presence at NATO earlier in his European trip, torching allies and demanding more defense spending before eventually reaffirming his commitment to the military alliance.
NATO at its heart is a bulwark against Russian aggression. Finland is not a member nation but has a memorandum of understanding with NATO.
Finland has also been the site of previous US-Russia summits.
__
9:50 a.m.
President Donald Trump is meeting with the Finnish president ahead of his summit with Russia's Vladimir Putin.
Trump has arrived at the the Mäntyniemi Residence in Helsinki, where he and first lady Melania Trump were greeted by President Sauli Niinistö (SAW-lee KNEE-nes-tuh) and his wife.
The leaders were seen surveying the view from a small balcony before sitting down for breakfast.
Trump will then be returning to his hotel before heading to the presidential palace for his highly anticipated talks with Putin.
Finland has a long legacy of hosting U.S.-Soviet and U.S.-Russian summits due to its geographic location and perceived neutrality.
__
9:45 a.m.
U.S. President Donald Trump is no fan of American journalists, but might love what the Russian media are saying about him ahead of his meeting with Russian Vladimir Putin.
Russia's largely Kremlin-friendly TV networks, websites and newspapers portrayed Trump as a political maverick who is being unfairly targeted by his own compatriots.
Newspaper Komsomolskaya Pravda dismissed the U.S. investigation into Trump's "mythical work for the Kremlin," and praised Trump for meeting Putin "despite opposition from his own elite and the hysterics of the media."
Commentators on popular Sunday night talk show "Vecher" or "Evening" said Putin goes into Monday's summit in Helsinki as the stronger figure, notably coming off his hosting of the World Cup.
They brushed off new indictments of Russians accused of hacking the 2016 U.S. presidential campaign.
__
9:20 a.m.
President Donald Trump says the U.S. relationship with Russia "has NEVER been worse" as he prepares for a high-stakes summit Monday with Russia's Vladimir Putin.
Trump in a tweet is blaming the hostilities on "many years of U.S. foolishness and stupidity and now, the Rigged Witch Hunt!"
That's Trump's favorite derogatory term for the special counsel investigation into Russian election meddling and possible ties to his campaign that has already led to a slew of indictments, including of a dozen Russian intelligence officers last week.
Trump is also once again blaming his predecessor, Barack Obama, for failing to stop Russia's efforts in the 2016 election.
He says Obama "thought that Crooked Hillary was going to win the election," so he did "NOTHING" about it when informed by the FBI.
__
9:05 a.m.
President Donald Trump is claiming credit for bolstering NATO as he heads into a day of meetings with Russia's Vladimir Putin.
Trump rocked a NATO summit last week when he lambasted members for failing to meet defense spending pledges and questioned the value of the alliance before doing a 180 and embracing it.
But Trump says in a tweet that he's received "many calls from leaders of NATO countries" thanking him for helping "to get them focused on financial obligations, both present & future."
Trump says, "We had a truly great Summit" and claims it was "inaccurately covered by much of the media."
Foreign policy observers will be watching to see whether Trump has kinder words for Putin in Helsinki than he did for NATO leaders in Brussels.
__
7:50 a.m.
European Council President Donald Tusk has urged President Donald Trump, Russian President Vladimir Putin and China to work with Europe to avoid trade wars and prevent conflict and chaos.
Tusk was speaking Monday in Beijing at the opening of a summit between China and the European Union. He noted that Trump and Putin's summit in Helsinki would take place on the same day in Helsinki.
Of the summit, Tusk said: "We are all aware of the fact that the architecture of the world is changing before our very eyes and it is our common responsibility to make it a change for the better."
Tusk said Europe, China, the U.S. and Russia had a "common duty" not to destroy the global order but to improve it by reforming international trade rules.
___
7:10 a.m.
President Donald Trump and Russia's Vladimir Putin are ready to go one-on-one in Finland.
Their summit Monday in Helsinki will play out against a backdrop of fraying Western alliances, the investigation into Russian election meddling and fears that Moscow's aggression may go unpunished.
The meeting was condemned in advance by an assortment of members of Congress from both parties after the U.S. indictment last week of 12 Russians accused of hacking Democrats in the 2016 election to help Trump.
Undeterred, the American president is set to go face-to-face with Putin, the authoritarian leader for whom he has expressed admiration.
Questions are swirling about whether Trump will sharply rebuke his Russian counterpart for the election meddling that prompted a special counsel probe.