El Salvador, Taiwan break ties as China isolates island foe
---
---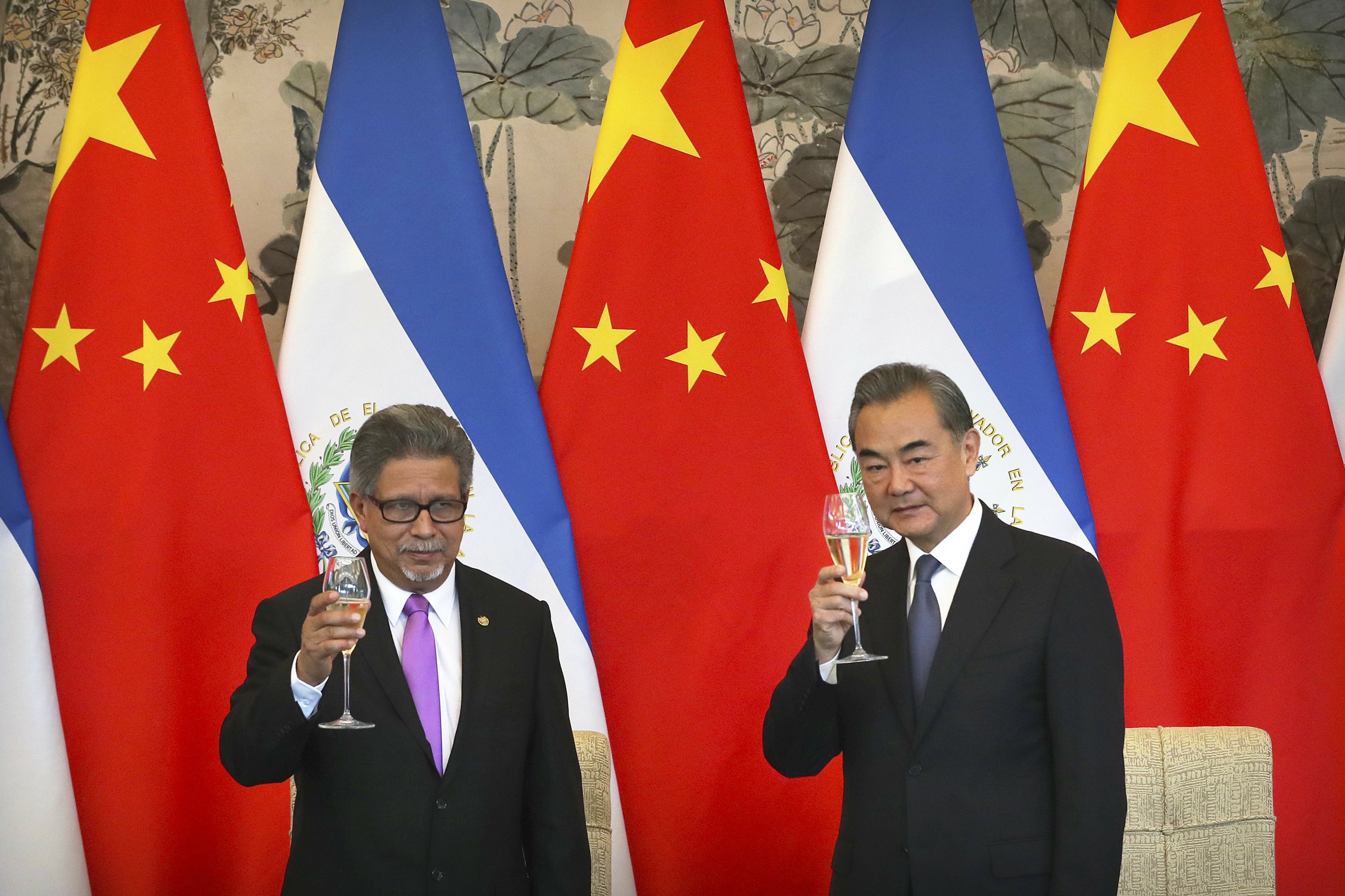 TAIPEI, Taiwan — Taiwan broke off diplomatic ties with El Salvador on Tuesday as the Central American country defected to rival Beijing in the latest blow to the self-ruled island China has been trying to isolate on the global stage.
The break in ties means Taiwan is recognized as a sovereign nation by only 17 mainly small, developing countries. In Beijing, Chinese Foreign Minister Wang Yi announced that his government has established ties with El Salvador.
Taiwan split from mainland China amid civil war in 1949, and Beijing, which considers Taiwan its territory, campaigns relentlessly to isolate the island globally. It cut off relations with Taiwanese President Tsai Ing-wen's government shortly after she took office in 2016 and has been steadily ratcheting up both diplomatic and economic pressure.
Earlier this year, the West African nation of Burkina Faso and the Dominican Republic broke ties with Taiwan and resumed or established diplomatic relations with China.
Taiwan's Foreign Minister Joseph Wu on Tuesday condemned what he called China's campaign of luring away Taiwan's allies with promises of vast financial aid and investment.
Taiwan is willing to consider cooperating with its allies in education, farming or even infrastructure initiatives, Wu said, but refuses to compete with China in buying diplomatic support. "It is irresponsible to engage in financial aid diplomacy or compete with China in cash, or even in providing illegal political money. My government is unwilling to and cannot do so."
Some analysts say Chinese President Xi Jinping, one of the most powerful Chinese leaders in decades, seems determined to bring Taiwan under Beijing's control during his time in office, which would place him in the history books alongside Mao Zedong.
The island's 23 million residents are strongly in favor of maintaining their de facto independent status, but Xi has previously warned a Taiwanese envoy that the issue of unification cannot be put off indefinitely.
Salvadoran President Salvador Sanchez Ceren said on national television that the decision to end relations with Taiwan and establish ties with China was made after careful analysis.
In Beijing, Salvadoran foreign minister Carlos Castaneda told reporters at a joint briefing with Wang that China is a strategic partner that can help his country.
"Our government makes this decision to create conditions to change the historical standing of our country and to really elevate the livelihood of our people," Castaneda said. "El Salvador has a long history of struggle. Today, through our decision making, we hope that we can bring benefits to all our citizens, to bring hope to everyone and to be better prepared for future challenges."
The move comes just a day after China's foreign ministry said it had complained to the U.S. over Tsai's visits this month to Los Angeles and Houston while in transit to diplomatic allies Paraguay and Belize.
The administration of President Donald Trump has been boosting relations with Taiwan amid a brewing trade war with Beijing.
Taiwan's Wu urged the island's people to unite despite the pressure the government was facing diplomatically.
"I want to emphasize that China's suppression of Taiwan has never stopped. We are a democratic and free country. This is a fact that the authoritarian regime cannot tolerate," he said. "We in Taiwan will continue to move forward."
___
Marcos Aleman contributed to this report from San Salvador, El Salvador.