The Latest: DeSantis is Florida's GOP gubernatorial nominee
---
---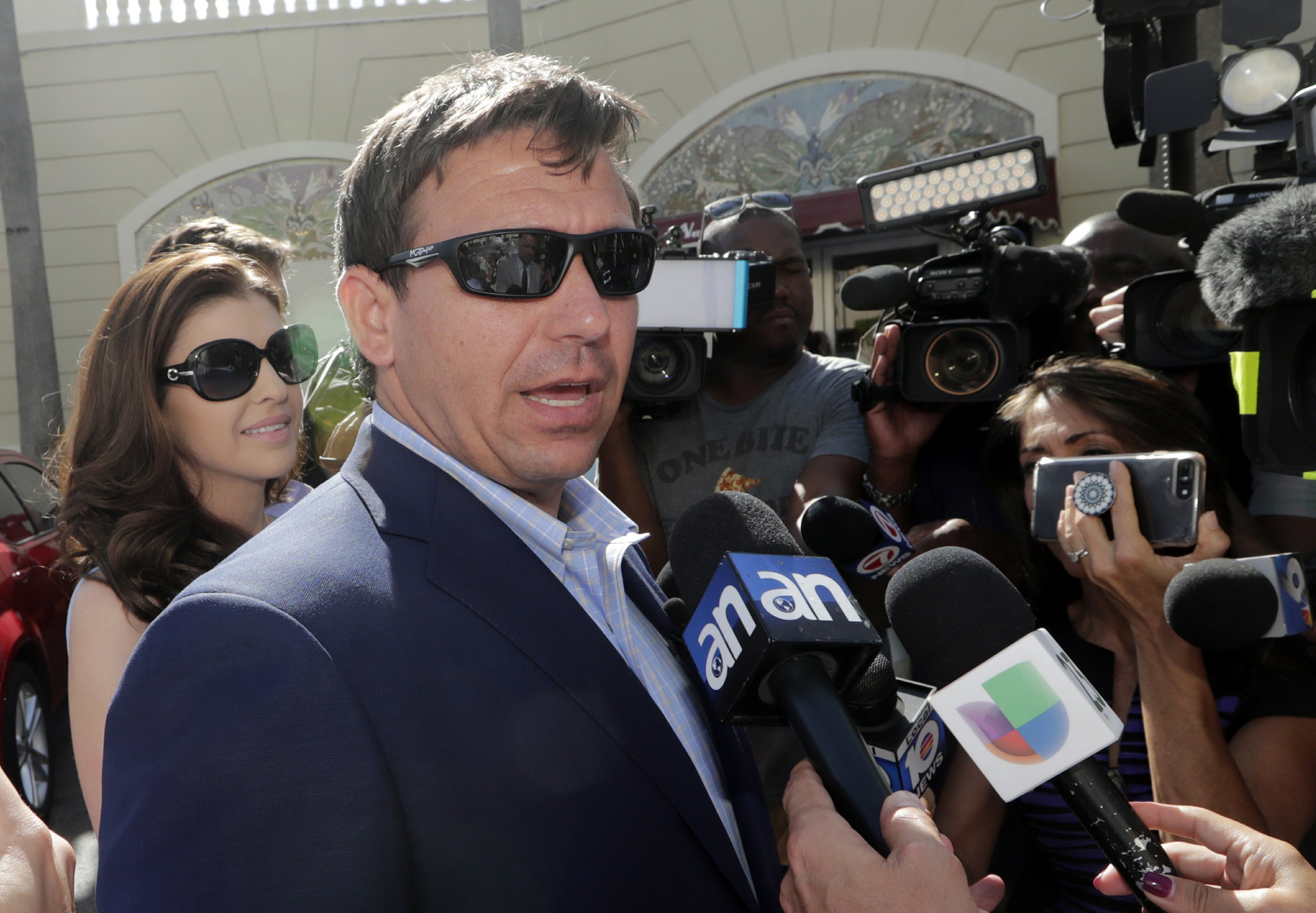 PHOENIX — The Latest on primaries in Arizona and Florida and a runoff election in Oklahoma (all times local):
5:05 p.m.
U.S. Rep. Ron DeSantis has won Florida's Republican nomination for governor, with the help of President Donald Trump's endorsement to overtake an opponent with a long history in Florida politics.
DeSantis defeated Agriculture Commissioner Adam Putnam on Tuesday and faces the Democratic challenger in the race to replace term-limited Republican Gov. Rick Scott.
DeSantis entered the race in January and largely built his name recognition with near-nightly Fox News appearances. Trump's endorsement helped him overtake Putnam, who has held elected office nearly his entire adult life.
DeSantis is a former Navy lawyer who won his seat in 2012 running as a Washington outsider. He ran for Senate in 2016 but dropped out of the race when Republican Sen. Marco Rubio decided to run for re-election after a failed presidential campaign.
___
5:05 p.m.
Florida Gov. Rick Scott is heading into a bitter and expensive clash with U.S. Sen. Bill Nelson after an easy win in the Republican primary.
The looming battle between Scott and the three-term Democratic incumbent could help determine whether Republicans keep control of the U.S. Senate.
Nelson wasn't on the ballot because no other Democrat challenged him in the primary.
Scott defeated California businessman Roque "Rocky" De La Fuente, who earned attention this year by mounting U.S. Senate bids in multiple states.
The two-term governor is leaving office because of term limits and entered the race for Senate at the urging of President Donald Trump.
Scott's campaign has already spent millions on television ads bashing Nelson as an out-of-touch career politician. Recent polls have shown Scott with a slight lead.
___
4:15 p.m.
Arizona voters are nominating candidates to replace one of President Donald Trump's fiercest critics in the Senate, a primary contest that comes amid increasing political change in a closely watched political battleground.
Tuesday's primary contest is for the seat being vacated by retiring Sen. Jeff Flake, whose opposition to Trump badly hurt his standing with the conservative Republican voters who dominate Arizona's GOP primaries.
The death of Sen. John McCain means both of the state's Senate seats will change hands by year's end. The state's governor will name a replacement to fill McCain's seat.
The three Republicans competing Tuesday all embraced Trump and distanced themselves from McCain, including establishment favorite Rep. Martha McSally.
Florida and Oklahoma also are holding elections Tuesday.
___
3:40 p.m.
Gun control is weighing on the minds of some voters casting ballots in Florida, where a Jacksonville shooting Sunday stoked the still painful memory of a February shooting in south Florida.
Independent voter Franklyn Roman of Miami says he wants Florida's next governor to press for some form of gun control. Roman says he's a gun owner and doesn't want anyone taking away his guns but adds, "I think it's become a problem."
Likewise, South Miami Democrat Louis Carvajal says restricting access to assault weapons, in light of the deadly shooting in Parkland this year, is an important issue.
___
2:10 p.m.
A contractor hired to set up voting machines in the Phoenix area failed to send enough technicians, leaving several polling places down during Arizona's primary election.
Maricopa County Recorder Adrian Fontes said Tuesday that his office in the state's most populous county learned of the issues Monday afternoon. He says he sent his staff to as many locations as possible to make fixes.
Fontes says he had expected up to 250 locations not being operational by Tuesday morning, but only four sites were down by 10 a.m. It's unclear how many polling places were down when they were supposed to open.
Fontes says the contractor didn't set up the machines on time. More than 100 calls from voters have reported problems Tuesday.
It comes more than two years after Phoenix-area voters endured hourslong lines after the county cut polling locations.
___
12:20 a.m.
The death of six-term Sen. John McCain is shadowing the primary contest in Arizona to replace his seat-mate.
The race to succeed Sen. Jeff Flake lays bare the fissures in a Republican Party dramatically remade by President Donald Trump. The three Republicans running for Flake's seat have embraced Trump and distanced themselves from McCain, a sign of how far the late senator's status had fallen with conservatives who dominate Arizona's GOP primaries.
The outcome of Tuesday's primary will be closely watched by Arizona Gov. Doug Ducey, who must name a replacement to fill McCain's seat for the next two years. McCain died Saturday after a yearlong battle with brain cancer.
Florida is also holding a primary Tuesday while voters in Oklahoma participate in a runoff for governor.