Germany, Turkey seek better ties but concede little ground
---
---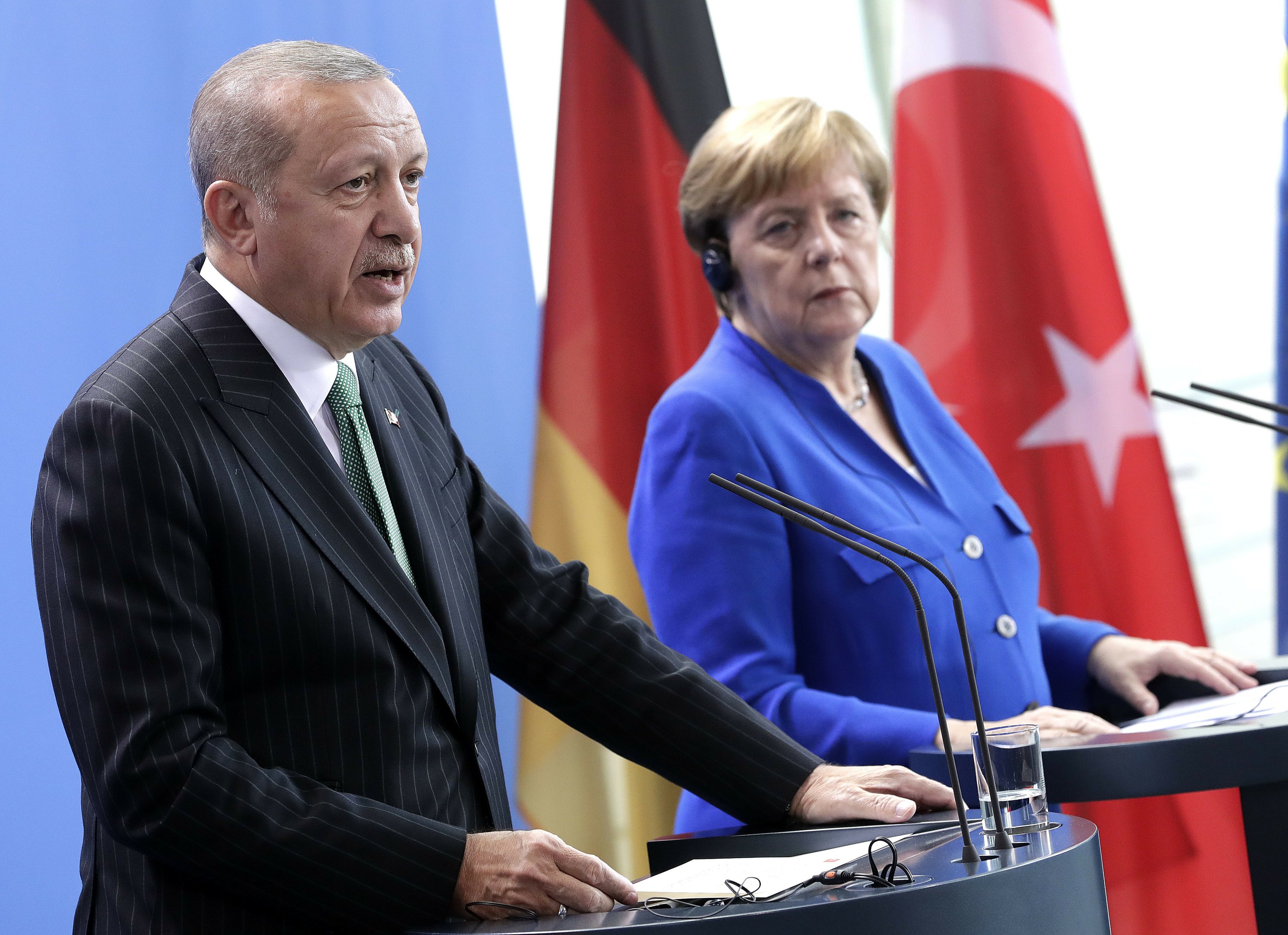 BERLIN — German Chancellor Angela Merkel and Turkish President Recep Tayyip Erdogan conceded little ground on issues dividing their countries after meeting Friday, but stressed the importance of the two NATO allies working together as they sought to improve acrimonious relations.
The two nations have clashed over numerous issues in recent years, including Turkey's jailing of German journalists and a German parliament resolution labeling the early-20th century killing of Armenians in Turkey as genocide. Turkey vehemently denies that the massacre was genocide and insists it was part of the violence during World War I.
The rhetoric escalated to the point where Erdogan called Germany's mainstream parties "enemies of Turkey" and accused German officials of acting like Nazis, prompting Merkel to condemn the Turkish president's words.
Erdogan ignored a question Friday about whether he had apologized for the Nazi comment. He instead doubled down on his demand for closer cooperation from Germany against groups that Turkey considers terrorist organizations, including Kurdish rebels and people with alleged links to a failed 2016 coup in Turkey.
Erdogan alleged that thousands of Kurdish militants and hundreds of people with suspected links to U.S.-based Muslim cleric Fethullah Gulen are living in Germany. Turkey accuses Gulen of orchestrating the coup attempt, which he denies.
"With the mutual trust we have for each other, I believe the handing over of (suspects) would make our work easier," Erdogan said.
Merkel noted that Germany considers the PKK Kurdish rebel group a terrorist organization and prosecutes its members, and said German authorities take Erdogan's information on Gulen seriously "but we need more material — what we have is not enough for a similar status to the PKK."
She also criticized the Turkish prosecution of journalists and others, detaining some for months without charges.
"It is no secret to anyone that there have been deep differences in our relationship in recent years, and that there still are," she said. "That largely has to do with questions of the rule of law, with questions of press freedom."
Erdogan said he has no right to criticize the German judiciary and Germany has no right to criticize the Turkish judicial system.
The trip is Erdogan's first formal state visit to Germany, home to more than 3 million people with Turkish roots. But the increasingly authoritarian leader is viewed with suspicion across the political spectrum in Germany, and many opposition politicians were staying away from a state banquet hosted Friday evening by German President Frank-Walter Steinmeier.
At the same time, the two countries recognize mutual strategic interests, with Turkey being key to the European Union's strategy to slow the flood of migrants into the continent. Turkey, which has a struggling economy right now, also needs economic cooperation from Germany and other European nations.
Merkel said she and Erdogan talked about bilateral economic cooperation and stressed that "Germany has an interest in an economically stable Turkey."
"There is, on the one hand, a common strategic interest in good relations, and on Germany's part too an interest in developing these relations," she said. "But on the other hand, on all questions of how a democratic, free and open society looks, there are also deep misunderstandings — not misunderstandings, differences."
"I think this visit is significant because we can only clear up differences by talking to each other," she said.
Before the news conference, exiled Turkish journalist Can Dundar, the former editor of Turkey's opposition Cumhuriyet newspaper, said he had decided not to attend and ask a question of the president after learning that Erdogan was considering canceling the news conference if he were present.
Asked about Dundar, who was convicted by Turkey in 2016 of revealing state secrets after his newspaper published photographs suggesting that Turkey's intelligence agency was involved in sending weapons to Syrian rebels, Erdogan called him a "convicted spy" who should be extradited.
Merkel said she didn't want to discuss specifics, but that it was "no secret" that Turkey and Germany differed in the case of Dundar, who fled to Germany in 2016.
As the leaders talked, another Turkish journalist who lives in Germany, identified by the dpa news agency as Ertugrul Yigit, stood up wearing a T-shirt with the slogan "Freedom for Journalists in Turkey." He was quickly removed by guards.
Merkel spokesman Steffen Seibert tweeted that the chancellery's approach during news conferences is: "No demonstrations or manifestations of political concerns. That goes regardless of whether or not the concerns are justified."
Security in Berlin was tight Friday, with streets, airspace and a waterway shut down during Erdogan's visit to the downtown government area.
Later Friday, several thousand people demonstrated against Erdogan in the capital, where some 4,200 police officers were deployed. More protests were expected Saturday in Cologne, where the Turkish president will be opening a new mosque built by a group with ties to Turkey.