The Latest: After attacks, Trump says he's trying to be nice
---
---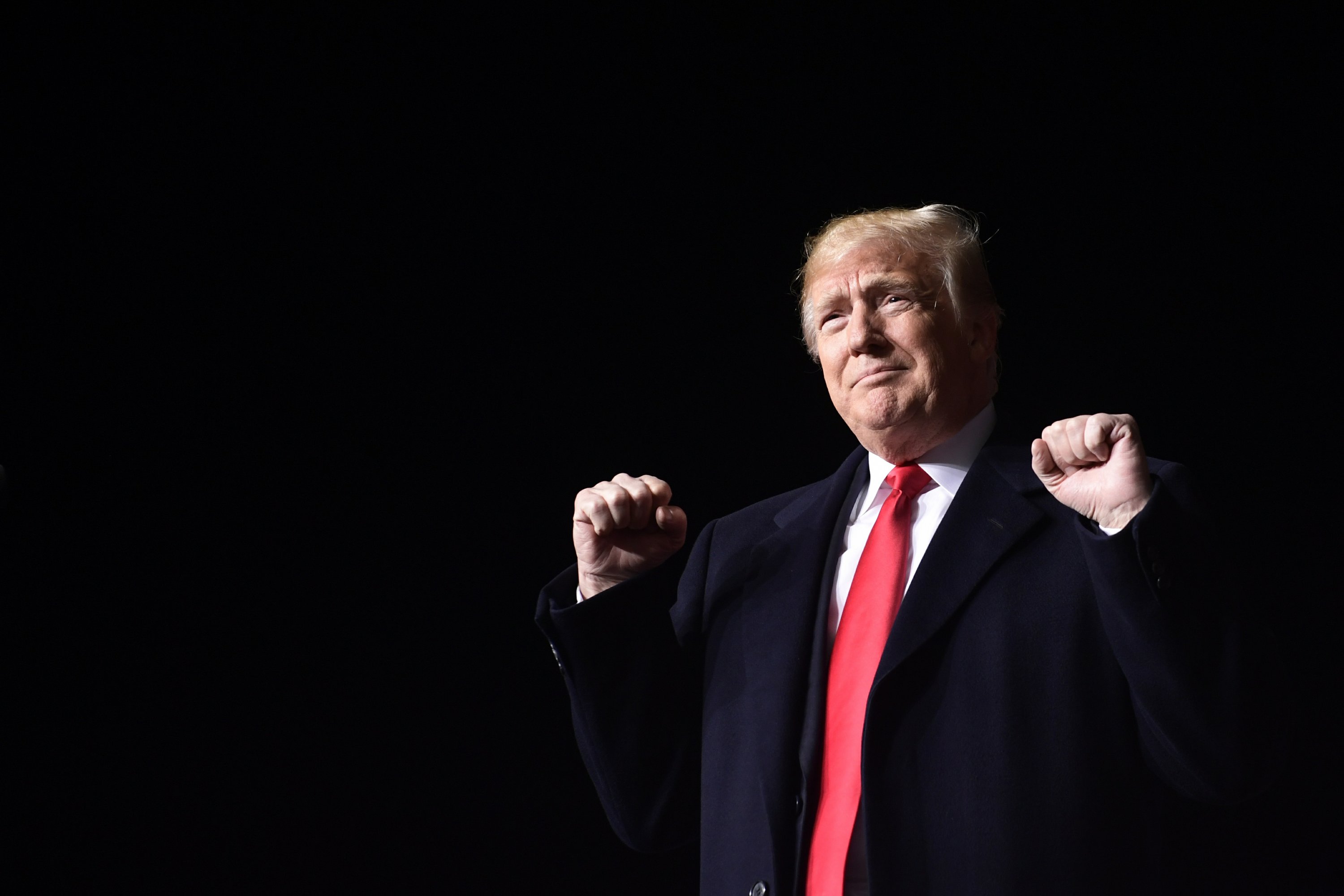 MOSINEE, Wis. — The Latest on President Donald Trump's campaign rally in Wisconsin (all times local):
7:55 p.m.
President Donald Trump says he's trying to be nice as he criticizes Sen. Tammy Baldwin at a Wisconsin rally following a series of attempted bombings on high-profile Democratic officials and CNN.
Trump claimed Wednesday at a rally in Wisconsin that Baldwin is a "radical, far left opponent" who "who wants a socialist takeover of health care." Baldwin is being challenged by Republican Leah Vukmir.
Trump says he's holding back his most fiery rhetoric because he's "trying to be nice."
Trump opened the rally by calling for a new era of civility in politics following the attempted attacks on former President Barack Obama, Hillary Clinton, CNN and others. And he said those in the political arena must "stop treating political opponents as being morally defective."
Trump is in the state campaigning for Republicans, including Gov. Scott Walker.
___
7:15 p.m.
President Donald Trump is calling on the country to come together after a series of packages containing pipe bombs were sent to former Democratic officials and CNN, but he's also pointing a finger at the media.
Trump said Wednesday as he kicked off a rally in Wisconsin: "We want all sides to come together in peace and harmony."
But he says the media "has a responsibly to set a civil tone and to stop the endless hostility and constant negative and oftentimes false attacks and stories."
Trump frequently labels stories he doesn't like as "fake news."
Trump is calling for a new level of civility, saying those "engaged in the political arena" must "stop threating political opponents as being morally defective."
Trump has repeatedly blasted his political opponents as criminals and argued that Democrats will destroy the country if they win control of Congress.
___
6:45 p.m.
President Donald Trump is in Wisconsin to boost Republican candidates with less than two weeks until the midterm elections.
The visit comes as law enforcement officials scramble to find the perpetrator of the attempted bomb attacks against a slew of Democratic officials, including former President Barack Obama, Hillary Clinton and Rep. Maxine Waters, along with cable network CNN.
Republicans in the state have been growing increasingly nervous about the prospects of holding onto the governor's office, let alone picking up a Senate seat held by a well-positioned Democratic incumbent.
Trump on Wednesday is visiting the tiny central Wisconsin city of Mosinee, which has a population of 4,000. He won that part of the state by double digits in 2016.
Trump earlier Wednesday condemned the attempted attacks and called for unity.
___
6:30 p.m.
The attempted bomb attacks against Democratic officials, including former President Barack Obama and Hillary Clinton, as well as cable network CNN are front and center at the preshow of President Donald Trump's Wisconsin rally.
But Trump's rally crowd is still jeering Clinton and the press.
House Speaker Paul Ryan and Wisconsin Gov. Scott Walker on Wednesday both addressed the attempted attacks, with Ryan calling it an "act of terrorism" that has no place in our democracy.
But other speakers still singled out Obama and the press in their remarks, prompting boos for the latter.
The crowd also erupted into a familiar "Lock her up!" chant directed at Clinton, Trump's 2016 rival.
The pipe bombs targeted a list of prominent Democrats but did not cause any injuries.