High turnout as Pacific archipelago votes on independence
---
---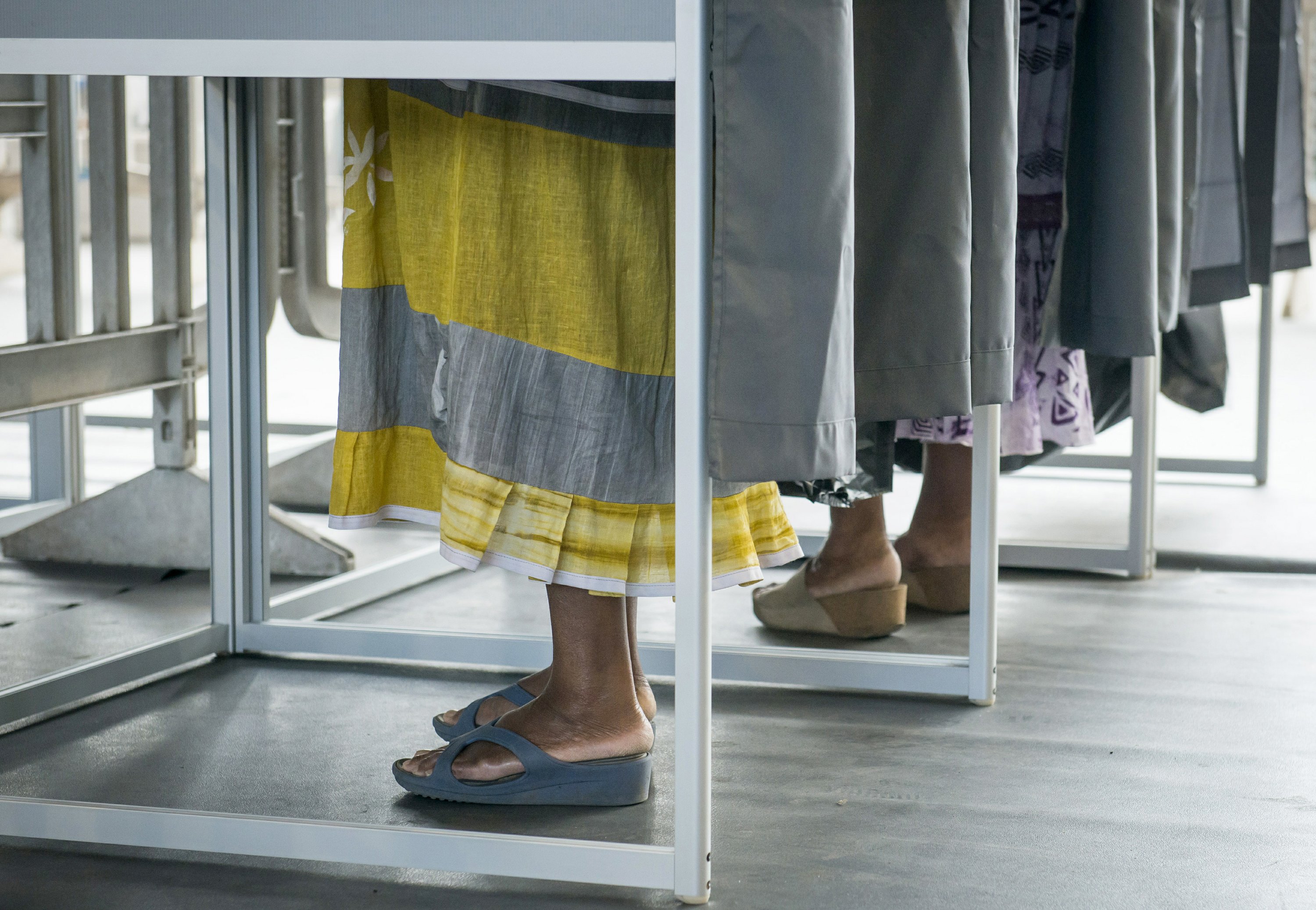 NOUMEA, New Caledonia — Voters turned out in exceptional numbers Sunday for an independence referendum in the South Pacific territory of New Caledonia, with early results suggesting that voters favored keeping ties with France.
With results declared from 202 of the 284 polling stations, the "Non" vote against independence from France was leading with 60 percent of the 123,000 votes that had been counted, the office for the French High Commissioner said.
More than 174,000 registered voters were invited to answer the question: "Do you want New Caledonia to gain full sovereignty and become independent?" France has ruled New Caledonia since the mid-19th century.
Voter turnout was so high that some polling stations in Noumea, the capital, had to stay open about an hour later than planned because they had large lines of people still waiting to vote, the commissioner's office said.
Close to three-quarters of the territory's registered voters had cast ballots an hour before polls closed Sunday evening, a far more robust turnout than in New Caledonia's provincial election in 2014.
The high commissioner's office reported limited outbreaks of unrest in Noumea as votes were counted, with seven cars set ablaze and two instances of stone-throwing. But otherwise, the vote was overwhelming peaceful.
From Paris, French President Emmanuel Macron was to speak about the territory's future and its choice in a televised address.
The independence vote marked a milestone for the archipelago that lies east of Australia and has sun-kissed lagoons as well as a mining industry for nickel, a metal used in electronics manufacturing.
Voters were given two slips of paper to choose from, one marked "OUI" ("Yes") and the other "NON."
Voter Monette Saihulinwa said she opposed independence.
"I don't necessarily want our lives to change," the 50-year-old said.
Others hailed the ballot as a landmark.
"We've been waiting for 30 years for this vote," said Mariola Bouyer, 34. "This vote must demonstrate that we want to live in peace, no matter our race, our roots. It's building a country together."
New Caledonia relies on France for its defense, law enforcement, foreign affairs, justice and education, yet has a large degree of autonomy. New Caledonia receives about 1.3 billion euros ($1.5 billion) in French state subsidies every year, and many fear its economy would suffer if ties are severed.
The cluster of islands is home to about 270,000 people. They include the native Kanaks, about 40 percent of the population; people of European descent, about 27 percent; and others from Asian countries and Pacific islands.
The archipelago became French in 1853 under Emperor Napoleon III — Napoleon's nephew and heir — and was used for decades as a prison colony. It became an overseas territory after World War II, with French citizenship granted to all Kanaks in 1957.
Most Kanaks have tended to back independence, while most descendants of European settlers have favored keeping the French connection. Under French colonial rule, the Kanaks suffered under strict segregation policies and faced discrimination.
The referendum is the result of a process that started 30 years ago to end years of violence between supporters and opponents of separating from France.
The violence, which overall claimed more than 70 lives, prompted a 1988 deal between rival loyalist and pro-independence factions.
If voters say no to independence on Sunday, the 1998 agreement allows two more self-determination referendums to be held by 2022.