Democrat challenges GOP hold on Florida governor's seat
---
---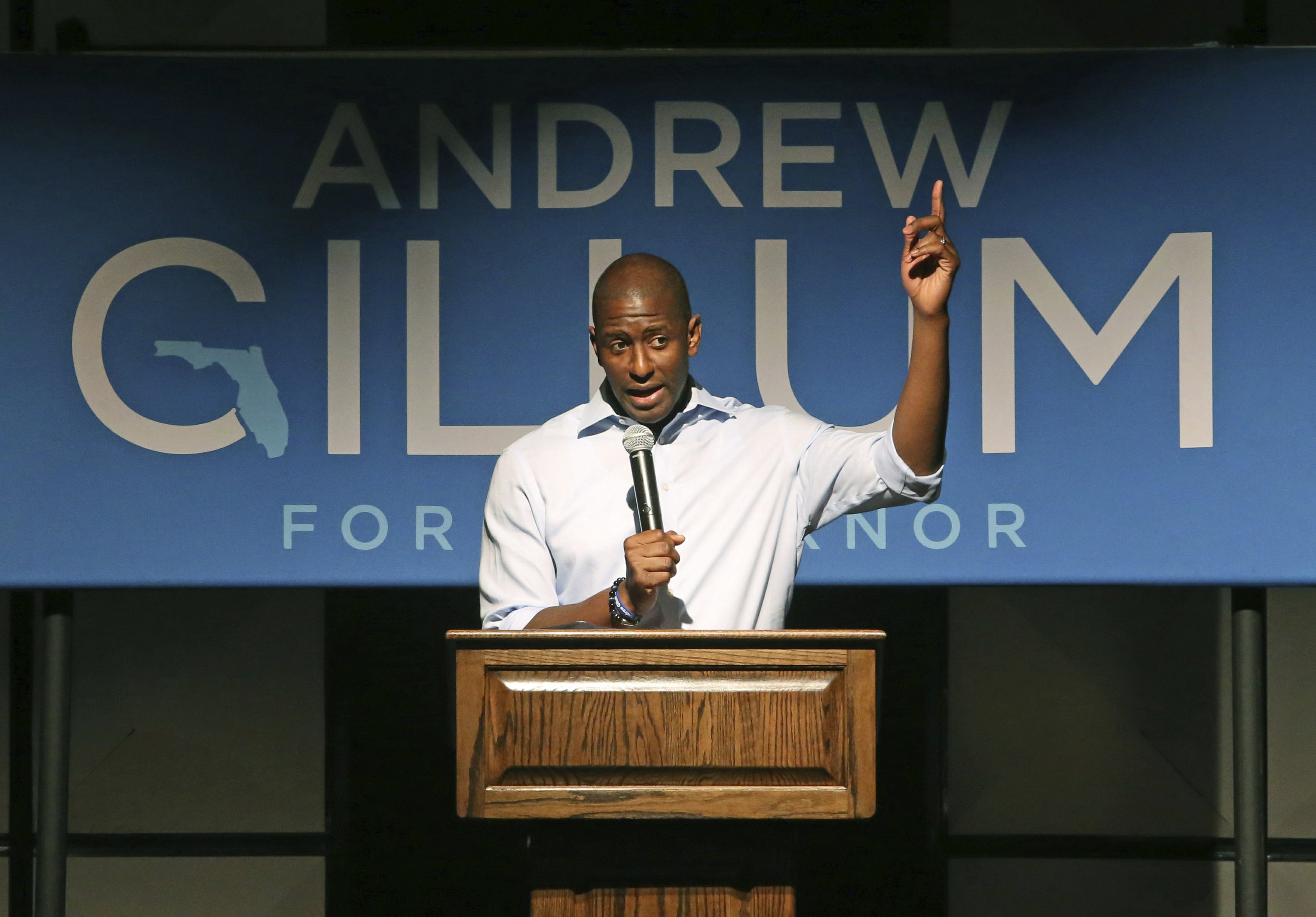 TALLAHASSEE, Fla. — Voters were deciding Tuesday whether to keep Florida under Republican control with a close Trump ally or elect its first Democratic governor since 1994 — and the first African-American — after a campaign marked by a deadly hurricane and gun violence.
Former Republican U.S. Rep. Ron DeSantis hoped to ride President Donald Trump's backing to victory in the governor's race Tuesday, while Democratic Tallahassee Mayor Andrew Gillum sought to energize his party's voters as an unabashed liberal.
Trump's endorsement of DeSantis is one of the reasons Anjenys Gonzalez voted for Gillum. The 43-year-old Democrat from Miami-Dade County said protecting people's civil rights is her most important issue. Gonzalez said Trump's administration "has done the exact opposite of upholding our democracy, so anybody he's endorsing clearly is in line with his policies."
In Little Havana, 34-year-old Enrique Tarrio says he chose DeSantis because the businesses he owns have flourished under Republican Gov. Rick Scott. He says DeSantis is "picking up where Rick Scott left off." Tarrio said he worries about Gillum's proposed corporate tax hike.
"I think if taxes get raised, that's one less person that I can hire," he explained. "That's one less person that I can go ahead and help."
Taxes also were a key concern for Lou Vallande, who lives in Rockledge on Florida's Space Coast. He said he's not affiliated with any political party but chose DeSantis for governor because he's afraid Gillum would raise taxes.
In Miami Beach, Greg Freeman had taken a red-eye flight from the West Coast to vote, and cited health care as a major issue because he has a pre-existing condition and has already seen insurance premiums sky-rocket.
"Health care. The ability to tell the truth. Not be beholden to money. Basically, human decency," Freeman said.
More than 5.2 million Floridians had already voted before Election Day — with Democrats casting slightly more ballots than Republicans. More Democrats voted early in 2016 also, but Trump won the state due to a GOP surge on Election Day.
As voting got underway, reports of problems surfaced in some counties.
For about an hour after polls opened Tuesday morning, a Sarasota County precinct shared by two congressional districts had to tell voters to come back later because ballots for one district were not available.
"It appears there was a printing issue," Supervisor of Elections Ron Turner said.
Turner said his office printed the missing ballots and ran them over to the precinct. A printer also was installed at the precinct to continue printing ballots.
Voter Ryan Mach was one of the voters turned away. "They scanned my license, and then they said, 'We don't have a ballot for you,'" he said.
Mach said he planned to return to vote after work.
This election — expected to be close — could shake up the political landscape in the nation's third largest state.
Republicans over the past 20 years have created and expanded school vouchers, passed restrictions to abortion, turned away money to expand Medicaid and pushed through the nation's first "stand your ground" law to give immunity to people who use deadly force if they feel threatened.
The last time Democrats won a Florida governor race was Lawton Chiles' re-election in 1994, and Republicans have controlled the Legislature since 1998. But the past two gubernatorial elections have been close.
Scott couldn't run for re-election because of term limits and is instead challenging Democratic U.S. Sen. Bill Nelson in one of the most closely watched Senate races. If Nelson loses, regaining control of the Senate will be extremely difficult for Democrats.
DeSantis, 40, was educated at Yale and Harvard universities before becoming a Navy officer. He won his House seat in 2012 running as a political outsider, but he clearly had larger ambitions. He ran for U.S. Senate in 2016, dropping out when Republican U.S. Sen. Marco Rubio decided to seek re-election.
"We need to protect the economic momentum that we have under Gov. Scott and under President Trump. I will keep it going and I will build on that success," DeSantis said in the closing days of the campaign.
Gillum, 39, was a 23-year-old Florida A&M University student when he became the youngest person elected to Tallahassee's city council. He was elected the city's mayor in 2014. He tells a story about a poor upbringing in Miami, and the lessons he learned about getting a good education from his mother and grandmother.
Gillum told reporters after voting in Tallahassee that he tried to keep his campaign positive, despite attacks from his opponents.
"Us winning tonight, I think, will send a message to Mr. Trump, and Mr. DeSantis as well, that the politics of hatred of division and separation, that they've come to an end," Gillum said.
The mayor has been hampered by allegations of corruption, based on an FBI investigation into Tallahassee City Hall, though Gillum has said he's not a target of the probe.
The winner could play a major role in the 2020 presidential election. Florida is the largest state with a history of swinging either way. DeSantis could have a chance to return a favor for Trump, or Gillum could help boost the Democrats' nominee to challenge him.