EU sets Nov. 25 as summit day to endorse Brexit
---
---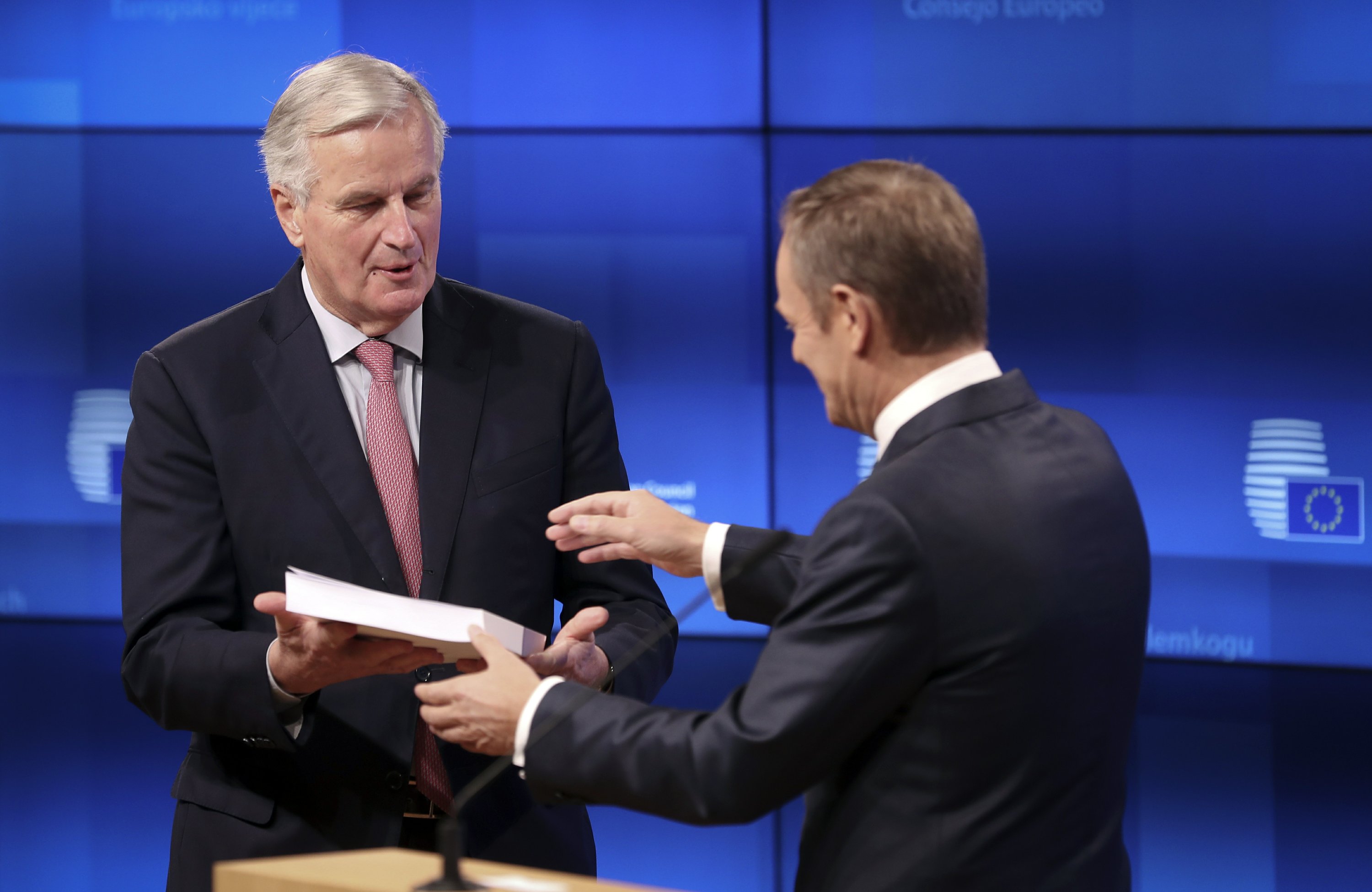 BRUSSELS — The British government and the European Union began the fraught process of selling a Brexit deal that they hope will ensure Britain leaves the bloc next March in as orderly a manner as possible.
On Thursday, European Union chief Donald Tusk has called for a summit of leaders to take place on Nov. 25 so they can endorse a draft Brexit deal that has been reached with the British government.
A day after British Prime Minister Theresa May won the backing of her Cabinet over the deal agreed with the EU, she will make a statement to lawmakers about the draft withdrawal agreement that culminated around 20 months of negotiations between the two sides.
Following an early morning meeting, Tusk heaped praise on the EU's Brexit negotiator, Michel Barnier, who had "achieved the two most important objectives" for the bloc — limiting the damage caused by Britain's impending departure and maintaining the interests of the other 27 countries that will remain in the EU after Brexit.
"As much as I am sad to see you leave, I will do everything to make this farewell the least painful possible for both for you and for us," said Tusk, who in his role as European Council President chairs the meetings of leaders.
Over the coming weeks, the focus will largely turn to London where May will face huge difficulties getting the deal through Parliament.
May hailed Wednesday's Cabinet decision following five hours of discussion as a "decisive step" toward finalizing the exit deal with the EU within days, and that it was "in the national interest."
However, many members of her Cabinet backed the deal reluctantly, and her Conservative Party, is deeply divided on the deal, which will see Britain stay close to EU rules for years to come. Shailesh Vara resigned Thursday as a Northern Ireland minister, arguing that the deal "leaves the U.K. in a halfway house with no time limit on when we will finally be a sovereign nation."
The opposition parties, notably the Labour Party, are also signaling that they will vote against the deal when it comes before them, most likely in December. That's important as May's Conservatives government doesn't have enough lawmakers on its own to get a majority and relies on the support of the Democratic Unionist Party from Northern Ireland, which has also voiced opposition to the deal.
The deal requires the consent of the European Parliament as well as the British one and on Thursday Barnier was set to travel to Strasbourg, France, to win over legislators there. The parliament's chief Brexit official, Guy Verhofstadt, has already welcomed the draft withdrawal agreement late Wednesday.