The Latest: Trump meets with Argentine President Macri
---
---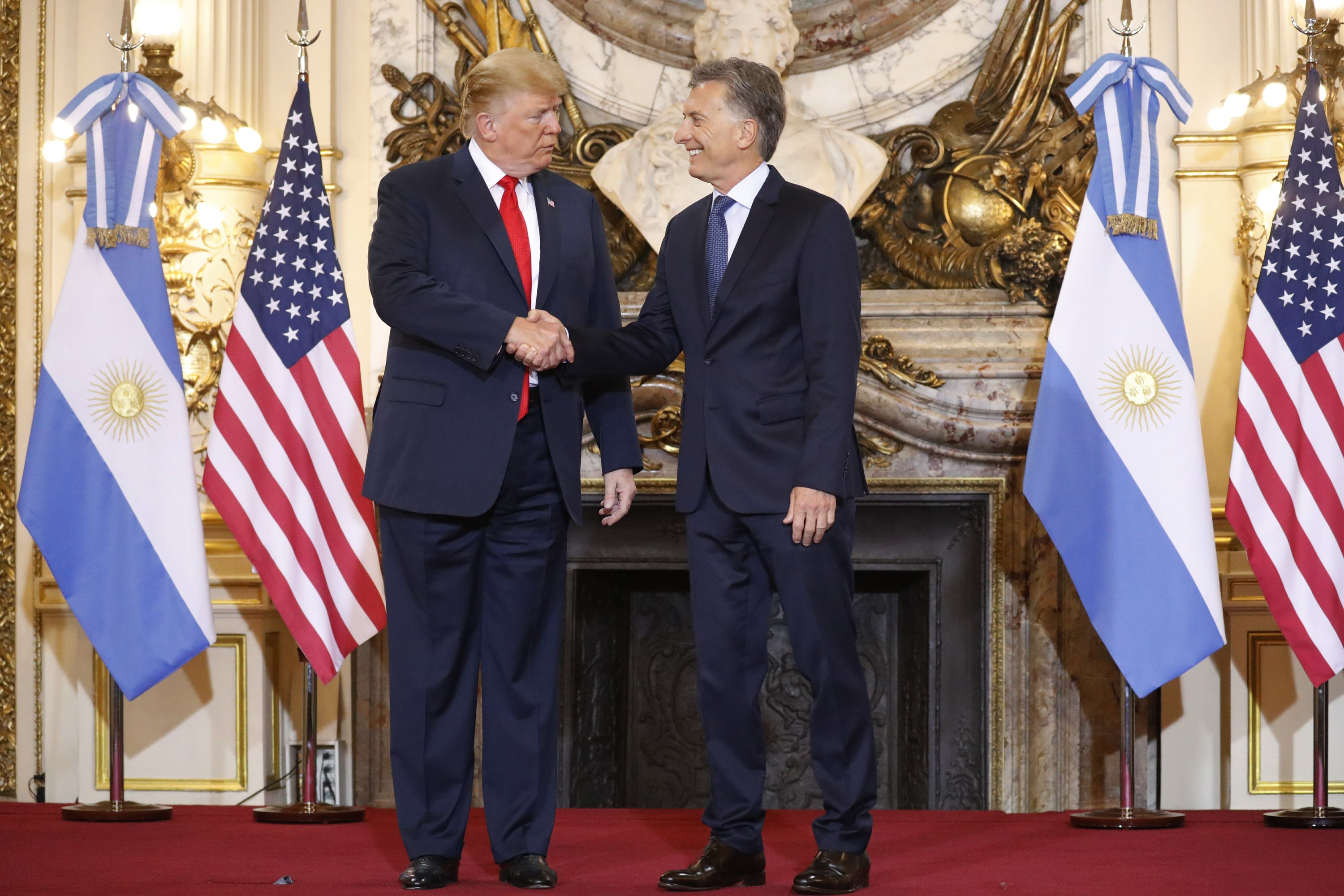 BUENOS AIRES, Argentina — The Latest on President Donald Trump at the Group of 20 summit (all times local):
7:55 a.m.
President Donald Trump is meeting Argentine President Mauricio Macri as he kicks off two days of diplomacy at the G-20 meeting.
The leaders greeted each other warmly Friday as the annual meeting of leaders from rich and developing nations opened in Buenos Aires. Trump spoke about his longtime personal friendship with Macri and said they would discuss trade, military purchases and other issues.
Macri is hosting his counterparts as he struggles with a raft of domestic issues, including trying to halt economic turmoil that has caused the steep depreciation of the Argentine peso.
Trump and Macri enjoy a personal relationship dating back to their days as businessman.
Macri visited the White House soon after Trump took office in 2017.
___
7:25 a.m.
President Donald Trump is blasting the investigation in which his former lawyer pleaded guilty to lying to Congress about a Moscow real estate deal he pursued for Trump during the 2016 presidential campaign.
Michael Cohen says he lied to be consistent with Trump's "political messaging." Trump says Cohen is lying now.
In a tweet Friday from Argentina, Trump recalled "happily living" his life as a developer before running for president after seeing the "Country going in the wrong direction."
Trump says "Against all odds" he decided to run for president and continue to run his business, which he calls "very legal & very cool." He says he "talked about it on the campaign trail."
Trump tweets he "Lightly looked at doing a building somewhere in Russia. Put up zero money, zero guarantees and didn't do the project. Witch Hunt!"
___
3:25 a.m.
President Trump kicks off two days of diplomacy at the Group of 20 summit in Argentina on Friday after his abrupt decision to cancel a meeting with Russian President Vladimir Putin overshadowed the proceedings before they even started.
Trump barreled into the two-day meeting by announcing via Twitter that he was canceling on Putin over Russia's seizure of Ukrainian vessels. His agenda Friday is expected to include meetings with world leaders, the signing of a revamped trade deal with Canada and Mexico, as well as a number of group activities for the gathering of rich and developing nations.
Coming into this G-20, Trump faces a series of diplomatic challenges — most notably whether he can strike an agreement with Chinese President Xi Jinping (shee jihn-peeng) to ease trade tensions.